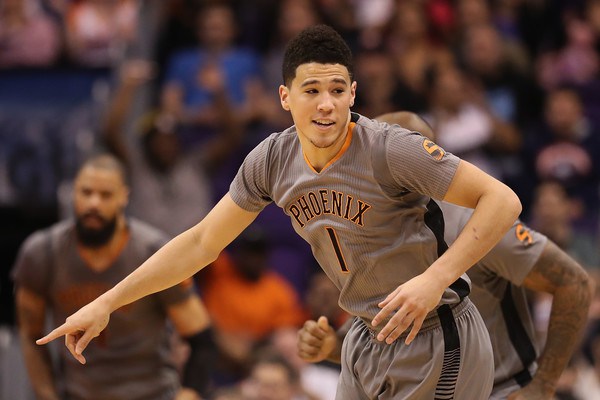 If the Phoenix Suns pull off a trade for Kyrie Irving, they won't be giving up Devin Booker.
Or No. 4 pick Josh Jackson.
Ergo, they won't be trading for Irving.
Eric Bledsoe's potential availability, fit with the Cleveland Cavaliers and the fact he shares an agent with LeBron James have rendered the Suns natural trade partners in the conjecture fields. But they're already unwilling to flip Jackson as part of any deal, and according to Cleveland.com's Joe Vardon, Booker can be added to that list, too:
Cleveland also wants Josh Jackson, a 6-8 rookie drafted fourth overall by the Suns in June. Phoenix reportedly doesn't want to trade Jackson, and a source said the Suns told Devin Booker he would not be traded — which would seem to put a serious hamper in this potential trade.

"If that deal (Bledsoe, Miami first rounder and Jackson) for Irving was there, it'd be done by now," a league source with knowledge of the Cavs' thinking told cleveland.com.
The Suns aren't being unreasonable here. Irving isn't necessarily an upgrade over Bledsoe. He's younger, and a better isolation scorer. It might be fair to trust Irving's health over his as well. But that's about it. And even if you're banking on improvement from Irving, forking over a lightning bolt in Booker or a top-four prospect and three-and-D stud like Jackson, in addition to Bledsoe, is just too much. Irving can become a free agent in two years time, and there's no guarantee he stays. And again: There's also no guarantee he makes the Suns better, either.
So Phoenix is correct to draw a line in the sand. The question is: Are other teams doing the same? And if so, will Cleveland need to lower its purported asking price in Irving deals?