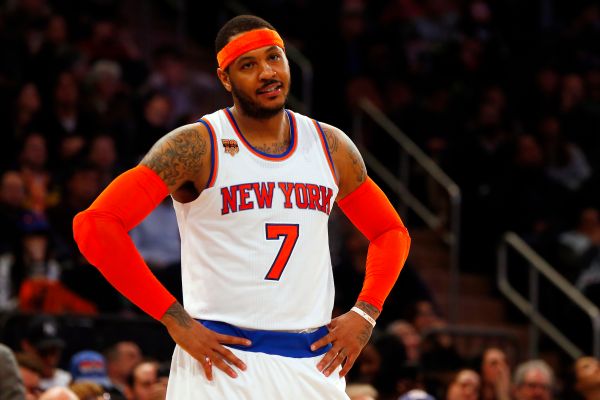 Is there a team other than the Cleveland Cavaliers or Houston Rockets that can convince Carmelo Anthony to waive his no-trade clause?
The New York Knicks sure hope so.
And the Portland Trail Blazers are thinking it could be them.
From ESPN.com's Adrian Wojnarowski:
One team that New York and Houston had hoped would facilitate a multiteam trade for Anthony, the Portland Trail Blazers, plans to participate in a deal for Anthony only if he decides to expand his no-trade clause to include them, league sources told ESPN.

Portland believes the addition of a player such as Anthony would furnish it with talent and depth comparable to those of the top Western Conference contenders, except for the Golden State Warriors, league sources said. Because of that, the Blazers have little, if any, inclination to facilitate an Anthony deal that would land him with a Western Conference rival such as Houston, league sources said.
As Woj notes, the Knicks have halted Anthony discussions with the Rockets for now. They just hired a new general manager in Scott Perry and will either try to sell Melo on staying or use the stalemate to leverage him into expanding his list of possible destinations.
The Blazers are an intriguing fit. Playing alongside C.J. McCollum and Damian Lillard would be similar to joining James Harden and Chris Paul in Houston. The defensive logistics would be more difficult, and it's unclear whether Anthony would cede touches to players who are younger than himself and outside his inner circle, but Portland's backcourt would be able to promise him an Olympics-type role on offense.
The Knicks have every reason to hope Anthony considers the Blazers, who are more likely to build packages around multiple first-round picks and more digestible contracts like Maurice Harkless, Meyers Leonard and even Allen Crabbe. The likelihood of Melo moving off his hardline stance, of course, feels slim. He has a no-trade clause for a reason, and Portland has never once cracked his list of preferred landing spots.
Still, that hasn't stopped McCollum from recruiting him via Instagram:
McCollum hasn't taken this down, so you know he's serious. And perhaps Anthony can see the offensive upside of joining the Blazers, knowing full well he can leave next summer in free agency if it doesn't work out.
If you're a betting person, you should still roll with the Rockets as his most likely end spot. But if you're in the market for dark horses, the Blazers have to at least kind-of, sort-of register on your radar.