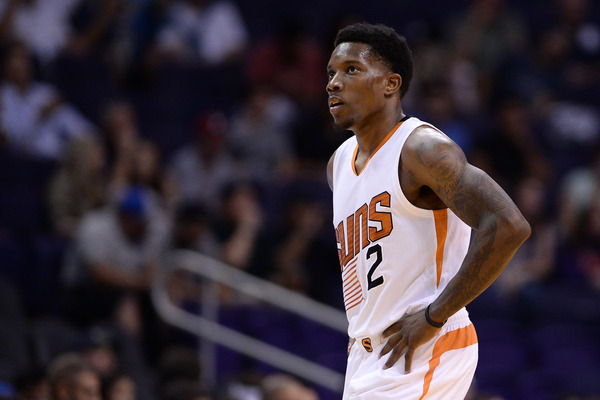 Although the Phoenix Suns keep saying one thing, rival NBA teams continue to believe another.
Eric Bledsoe looks out of place in his current situation. He will turn 28 in December, and the Suns aren't anywhere near ready to compete for a title. They seem lightyears away even from a playoff berth.
That hasn't stopped the Suns from claiming he is unavailable, and yet, according to Basketball Insiders' Steve Kyler, plenty of suitors believe he's up for grabs:
The prevailing thought around the NBA is that the Suns are going to draft another high profile young guy and Bledsoe likely gets marginalized out of the forward-looking plan.

Suns sources continue to deny that there is a lot of interest in moving Bledsoe, but eventually, the team has to embrace their youth, which is why so many opposing teams believe Bledsoe can be had.
The Suns have to bite this bullet at some point. Their current roster isn't going to be really good for a really long time, assuming it even gets there. They have a top-four pick this year, Dragan Bender and Marquese Chriss are both raw, and Devin Booker has a looooong way to go before he's an asset on the defensive end.
Bledsoe is under contract for two more years, so there doesn't have to be any innate rush. At the same time, his free agency in 2019 will come fast. Keep him through this season, and all of a sudden he becomes an expiring contract—someone teams still value but for whom they're not willing mortgage the farm.
We should probably expect steady doses of Bledsoe rumors between now and next season's February trade deadline. He can net the Suns a fairly hefty return, and they might have even more of a reason to shop him if, by some twist of fate, both the Los Angeles Lakers and Philadelphia 76ers pass on selecting Lonzo Ball in this year's draft, allowing him to fall toward them.