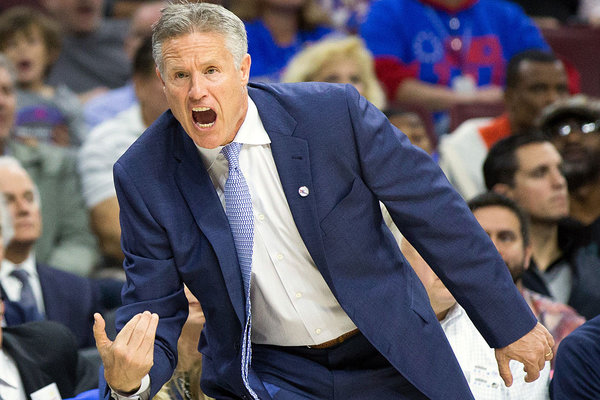 Brett Brown knows it's going to be a long final one-fifth of the season for the Philadelphia 76ers. His message to you, the fans: Bear with them as they fire up the tank for what they hope is the last time.
Per Philly.com's Keith Pompey:
With 11 of his team's next 14 games on the road, 76ers coach Brett Brown had a message for anyone who would listen.

Nine of the Sixers' opponents during this stretch would advance the playoffs if the regular season ended Monday. Two other squads — Portland and the Dallas Mavericks — are in the hunt for postseason spots. The Sixers (23-40) will face the NBA finalists in each of the last two seasons in the Golden State Warriors and the Cleveland Cavaliers.
If Joel Embiid was healthy, this road-heavy stretch would see more than doable. But, like Ben Simmons, he's done for the season, and the Sixers, though they play hard, are a statistical crapshow without him on the floor, according to NBA.com. So Philly is going to lose a ton of games. For the fans, it's best to find value in those losses.
Right now, the Sixers have the fifth-worst record in the NBA. The fourth-worst Orlando Magic are only a half-game behind them. The third-worst Phoenix Suns are 2.5 games behind them.
Catching the 29th-place Los Angeles Lakers (4.5 games behind) and league-worst Brooklyn Nets (11.5 games) is out of the question. But the Sixers have a real chance to get inside the top three of the lottery, an opportunity they should revel in. Players and coaches never want to lose, but the Sixers will rack up Ls organically, and in volume, positioning themselves to add one of Markelle Fultz, Lonzo Ball and Joshua Jackson to what will hopefully be a healthy Embiid-Simmons duo next season.
As far as silver linings amid losses go, that's pretty great.