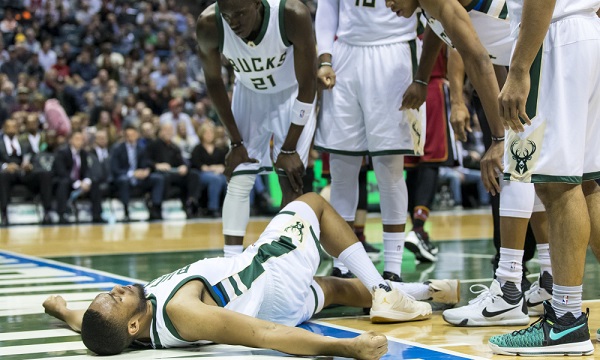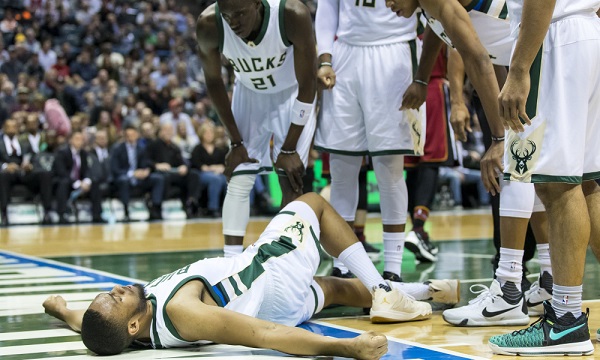 The Milwaukee Bucks just can't seem to catch a break on the injury front.
On a night when they were on a high, having Khris Middleton making his first appearance of the season after injuring his hamstring in the pre-season, the return of one of the better and more underrated young wing players in the league was overshadowed by another scary knee injury to budding star forward and No. 2 pick of the 2014 NBA Draft, Jabari Parker.
Parker was driving to the rim in the 3rd quarter of Wednesday night's game vs. the Miami Heat, when Parker's knee appeared to give out on him and he collapsed on the baseline underneath the rim.
Jabari Parker's left knee. Again. Oh no. pic.twitter.com/MlLqefPRzb

— Tim Reynolds (@ByTimReynolds) February 9, 2017
This was the same knee that Parker severely injured in December of 2014, when he tore his ACL a few months into his rookie season in a game in Phoenix against the Suns.
Anytime you have a non-contact injury like that, especially on a surgically repaired knee it is not a good sign for the player and it appears that Parker may have just sprained his knee according to early reports.
Parker has really made a leap as a player in the 2016-17 season, averaging 20.2 points per game, 6.1 rebounds and 2.8 assists on 49% shooting from the field and a vastly improved 36.5% from three-point range.
He also has appeared to be have gotten his explosiveness back from his initial knee injury and was flashing some of the athleticism that was sparse in his first few seasons in the league like on this dunk against Phoenix on Saturday…
Jabari Parker dengan dunk yang eksplosif saat Bucks mengalahkan Suns hari ini! #NBAIndonesia #ThisIsWhyWePlay pic.twitter.com/sod3DuMUmr

— NBA Indonesia (@NBA_Indonesia) February 5, 2017
Losing Jabari Parker for the remainder of the season would be a huge blow to a 22-29 Bucks team that is already struggling and trying to make it back to the postseason. Although it may present more opportunities for a young player like Thon Maker to get some experience, it could set the Bucks back quite a bit and put a damper on what appears to be a bright future in Milwaukee.