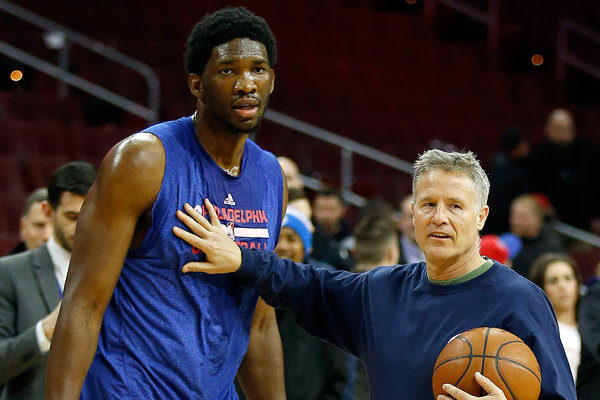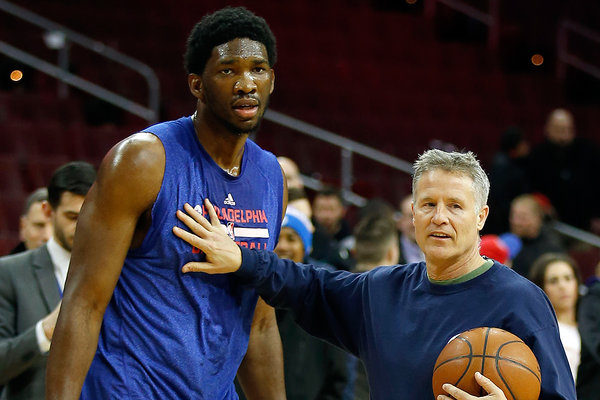 Brett Brown is entering his fourth season as head coach of the Philadelphia 76ers, and if we're to believe team president Bryan Colangelo, there's a fifth year in his future, too.
From the Philadelphia Inquirer's Keith Pompey:
Everyone from bloggers to reporters to opposing NBA personnel has been speculating on Brown's job security. Some have stated that the 55-year-old is embarking on a bona fide make-or-break season.

"I love my job and the spirit of this city," Brown said Thursday. "I have no further comment."

Sixers president Bryan Colangelo, however, did have something to say.

He said, at this stage, any "outward discussion" or "ridiculous speculation" about this being a make-or-break season for Brown is unfounded and unfair.
To be honest, perhaps at the expense of tooting my horn, I've never once thought the Sixers would use another lost season to fire Brown. For one, they signed him to a two-year extension last December, and nothing has really changed for the worse since then. It's hard to imagine him falling out of favor, that far, that quickly. Brown has always seemed like a top-10 coach trapped with an historically bad team.
And that's the main point here.
On what grounds could the Sixers really fire Brown? Maybe because Colangelo wants to install his own guy, but that's about it. At any rate, it cannot come down to performance.
The Sixers have won 47 games across three seasons under Brown, which looks bad. He has coached some of the worst offenses and defenses of all time. That looks worse.
But the Sixers were built to be all those things. They were supposed to be bad, historically so, in order to collect top-flight draft prospects. And while they've hoarded high-end draft selections, they've run into setbacks at every turn. Nerlens Noel began his career injured. Joel Embiid is a third-year rookie after sitting out his first two seasons. Jahlil Okafor has already undergone knee surgery. And now Ben Simmons, the cream of the Sixers' prospect crop, is dealing with a fractured foot.
That combination of bad luck and deliberate dreadfulness makes it impossible to evaluate Brown by performance, wins and losses, even development. He should only be graded on the spirit of the team, and that doesn't appear to have suffered—not any more so than it would under anyone else.
In that sense, by keeping the Sixers locker quasi-united, or at least mostly out of the tabloids, Brown has been a success. Once the team gives him a collection of healthy, able NBA talent, that's when you can start to judge him against wins and losses and the general state of the Sixers.