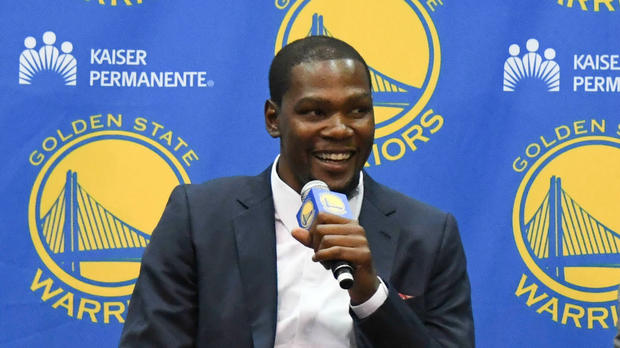 Now I love Kevin Durant as much as the next person, but KD's choice to sign with the defending Western Conference Champion Golden State Warriors and leave OKC got me wondering.
When I open my internet browser, turn on the T.V., or listen to the radio, all I hear are journalists like Stephen A. Smith and Max Kellerman saying that—aside from a few bit-sized quibbles—they have no problem with Durant leaving OKC for the Warriors. Initially, I agree with Smith that the real problem was that KD left for the team that beat him, but once I crunched the numbers, I found a bunch of reasons Durant is actually overrated.
Now, I know that sounds crazy. Last season, Kevin Durant helped lead his team to the Western Conference Finals with his smooth shooting and his unselfishness. Durant was 3rd in scoring with 28.2 ppg, 3rd in free throw shooting at 89.8%, and led the league in scoring with 28.4 ppg. On the other hand, KD was coming that leg injury he suffered in 2014-2015, and we might be starting to see some chinks in the armor of the future Hall of Fame forward.
Last season,
KD had his lowest 3PT-shooting season in 5 years (38.7%). It's a good thing, he's moving on to a team that shoots as well as the Warriors do—Stephen Curry shot 45.4% 3PT and Klay Thompson 42.5%.
Putting aside…
KD's injury-ridden 2014-2015 season, last season Durant had his lowest free throw attempts per game, since his rookie year, which is huge. When players are in their peak, they get to the line. This also shows Durant is not taking the ball aggressively to the basket like he used to before the injury. Additionally, also throwing away '14-'15, last season Durant posted the lowest amount of And 1's of his career. Durant even had his worst shooting season from 0-3 feet from the basket in 4 years.
Let's be real,
though. Durant is a scoring machine, and he's proven that in the 2016 NBA playoffs and he continues to demonstrate his offensive excellence in the 2016 Summer Olympics. Durant scored 25 against China, but he was held to 16 points in the game against Venezuela and 14 points on 4/16 shooting against Australia.
USA Basketball v China (Rio Olympics):
https://youtube.com/watch?v=fCrSMJmTJrc%2520frameborder%3D0%2520allowfullscreen
Back to the NBA, KD had his lowest scoring output in 4 years (again, not including 2014-2015). Sure, KD was the third best scorer in the league, but are his days of leading the league in scoring a thing of the past? Maybe.
Likewise,
Durant had his lowest playoff PPG in 4 years, but we'll take that in context, because he still led the NBA.
Now things become even more ominous…
Durant Scores 40 Points in Game 5 WCF v Warriors:
https://youtube.com/watch?v=LXctnPQmTzA%2520frameborder%3D0%2520allowfullscreen
In the 2016 playoffs…
– Kevin Durant had his worst shooting playoffs since 2010 (43% FG).
– KD had his lowest 3PT shooting playoffs of his career (28.2% 3PT).
– KD shot a personal worst in 2PT % since 2010 (at a still respectable 48.5%).
– KD posted his lowest win-share (WS) since 2010.
– KD had his lowest player efficiency rating (PER) since 2010.
– KD had a career-high in turnovers due to lost balls (51).
And there are at least 15 more things that show Durant's slow decline, but from his minutes to efficiency to shooting, all signs point to that slow, steady decline for the 27-year old all-star, who just signed a $54.3 million dollar contract for two seasons. These numbers should at least give us pause as we consider Durant's legacy going forward.
Durant was ranked 2nd in PER (28.25) last season, and that statistic used to mean more, until last season when the San Antonio Spurs Boban Marjanovic (who played just over 9 minutes per game) was ranked 3rd in PER above players like Russell Westbrook, LeBron James, and Chris Paul. Anyone with eyes and ears should question that. Oh, and Jrue Holiday and Nikola Jokic had higher PERs than Draymond Green and Klay Thompson.
Durant is great and he's a future Hall of Fame player, but so far in his career, KD looks more like Carmelo Anthony—9x All-Star and 1x Scoring Champ—or George Gervin—9x All-Star and 4x Scoring Champ with no titles. Durant is a 7x All-Star and a 4x Scoring Champ with no titles. It's a good thing he joined the Warriors. Hopefully, he'll get that illusive championship he so desires and deserves.