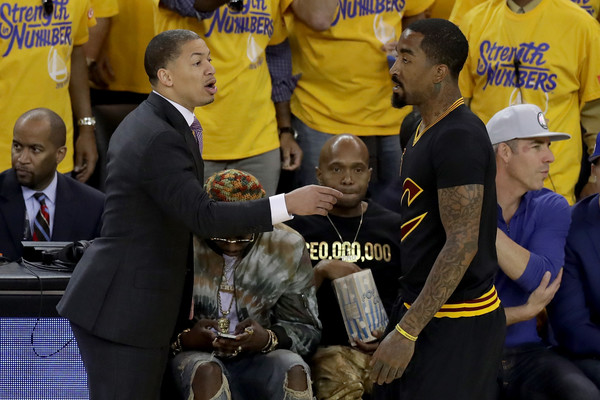 Tyronn Lue has 62 games, playoffs and regular season, of NBA head coaching experience. The Cleveland Cavaliers apparently think that's enough to warrant a five-year extension.
According to The Vertical's Adrian Wojnarowski, the Cavaliers reached a five-year, $35 million agreement with their head honcho:
After helping to deliver the Cleveland Cavaliers an NBA championship, head coach Ty Lue has agreed to a five-year, $35 million contract extension, league sources told The Vertical.

The agreement was reached on Monday and a formal announcement is expected in the next 24 hours, league sources told The Vertical.

After his promotion to head coach following David Blatt's firing in January, Lue gambled on himself and decided against signing a shorter, less lucrative deal as Cavaliers coach – never signing a three-year, $9.5 million contract framework.
That's quite the gamble by Lue, and it most certainly paid off.
It almost doesn't even matter that the Cavaliers upended the Golden State Warriors to win a title. Well, okay, it matters quite a bit. But would Lue's contract extension really look that much different if the Cavaliers didn't erase Golden State's 3-1 NBA Finals lead to secure their first-ever championship? Probably not. While they would have been ringless, the team appeared more united under Lue—far more than they ever did under David Blatt. He reached LeBron James and company with authority, championing a presence on the sidelines that Cleveland sorely needed. This contract extension, both in length and value, was inevitable.
Now, about J.R. Smith…Is it finally his turn to get a deal? He is still a free agent, and it likely won't be long until the Philadelphia 76ers offer him Manu Ginobili money just for craps and giggles.