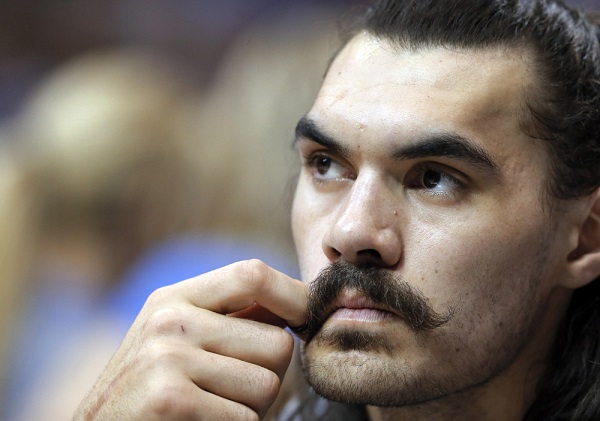 Steven Adams made his mark on Game 2 of the Spurs-Thunder Western Conference semifinal series Monday night injecting life and toughness into the Thunder by scoring 12 points to go along with 17 rebounds in 37 minutes including numerous thunderous (see what I did there?) dunks.
He has developed into an extremely valuable 'doin the dirty work' player for the Thunder with his affinity to mixing it up with opposing big men and giving the Thunder great hustle and rim protection with his length and lateral quickness. He is the classic blue collar guy you absolutely love to have on your team, but hate playing against.
Apparently he is so aggravating that opposing fans even want to mix it up with him…
During last nights crazy final play, a Spurs fan was holding back Steven Adams' arm. (via NBATV) https://t.co/MJgJdai6hd

— LegionNBA (@MySportsLegion) May 3, 2016
In summary, he is a 7'1″ kiwi with a perfect cop stache, long flowing hair and tribal tattoos to match his on court persona.
Please take a moment to really appreciate his twitter, which includes many pictures of his love and affiity of his mustache and the mustache of others including teammate Enes Kanter, and his Twitter profile picture makes him look like Tom Selleck in his 1980s Hawaii Five-O heyday…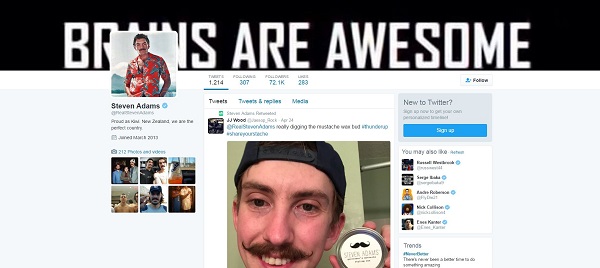 You know you are an interesting human being when Russell Westbrook decides to be you for Halloween as he did in 2015…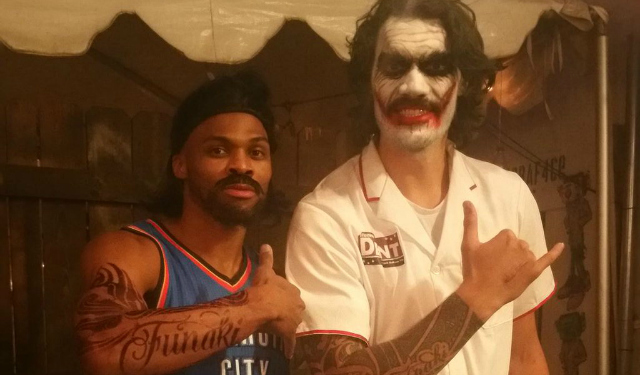 ESPN Reporter Brian Windhorst wrote a really interesting piece Tuesday morning on the story of how Steven Adams went from a boy in rough but picturesque Rotorua, New Zealand to the mustachioed, long-haired bad ass terrorizing opposing big men across the NBA.
Adams is the youngest of 18 kids, yes 18 kids and his 6'11 father Sid had Steven in his 60s. That would explain his toughness.
When his father passed away at a young age, Adams stopped attending school and started hanging out with a local gang called the Mongrel Mob.
It wasn't until the age of 14 when his older brother Warren noticed the natural athleticism of the 6'5″ Adams, this amidst their family's athletic nature as Adams has an older sister who won the gold medal in shot-put at the 2008 and 2012 Olympics, that he convinced a former professional athlete friend of his who retired to New Zealand to help find Adams a scholarship to attend Scots College. Scots was a college preparatory academy in Wellington, New Zealand. A school that costs upwards of $150,000 in tuition for middle school and high school.
Adams, an uneducated and rough around the edges kid with long hair attended the school as an outcast but used the opportunity to change his life.
The rest is history, he developed into a 7'0″ tall, strong and wiry top-level college basketball prospect and used a rare opportunity to showcase his skills for American recruiters by playing for a Latin American team at a high school showcase in Los Angeles. Yes, a Latin American team because there were no other players from his region.
Strange doesn't begin to describe Steven Adams story.
He would then catch the eye of University of Pittsburgh Head Basketball Coach and former professional player in New Zealand Jamie Dixon and play one season at Pittsburgh before being drafted 12th by the Oklahoma City Thunder in the 2013 NBA Draft.
For more on Adams' story check out the ESPN.com profile of Adam's journey and bask in the glow of the most interesting man in the NBA: The Untold Story of Steven Adams