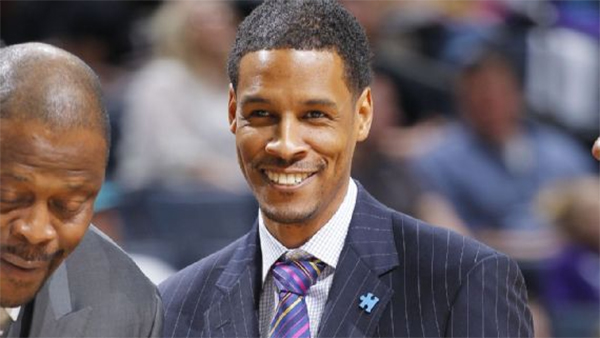 Breaking: The Houston Rockets' coaching search remains all over place.
Following the removal of Kenny Smith and Jeff Van Gundy from consideration, Mike D'Antoni is still being painted as the lead choice to replace Kevin McHale, who was temporarily succeeded by J.B. Bickerstaff. But another name is starting to gain steam–names, actually.
The Rockets, according to Jonathan Feigen of the Houston Chronicle are taking a long, hard look at Charlotte Hornets assistant coach Stephen Silas, who would apparently be accompanied by former Memphis Grizzlies and Brooklyn Nets head coach Lionel Hollins as his assistant:
In addition to Mike D'Antoni, Rockets seriously weighing Stephen Silas as coach with Lionel Hollins as his top assistant, source said.

— Jonathan Feigen (@Jonathan_Feigen) May 20, 2016
Think this is some sort of a smokescreen—a negligible footnote in the carousel that is the Rockets' coaching search?
Think again.
This is apparently a serious dalliance:
As mentioned yesterday, Silas is extremely impressive and highly regarded by players. Hollins' creds obviously speak for themselves.

— Jonathan Feigen (@Jonathan_Feigen) May 20, 2016
Rockets have thought highly of Hollins for years. Hoped to add him to McHale's staff post-Sampson, but Hollins landed Nets job.

— Jonathan Feigen (@Jonathan_Feigen) May 20, 2016
With the coaching well drying up and only one other vacancy (Memphis Grizzlies) remaining, expect the Rockets to make their decision. They will likely want a coach in place for draft and free-agency prep, and such groundwork is already underway.
As for who they will actually hire, that's almost anyone's guess. Yours truly pegged Van Gundy as the favorite and was wrong. D'Antoni seems like the more established choice for a Rockets team bent on returning to contention soon, but the clout Silas carries as an innovative mind and guardian of player respect cannot be ignored.
So, basically, count on the final decision coming down to those two.
Then again, maybe not.
This Rockets coaching search has, after all, been anything but bankable.