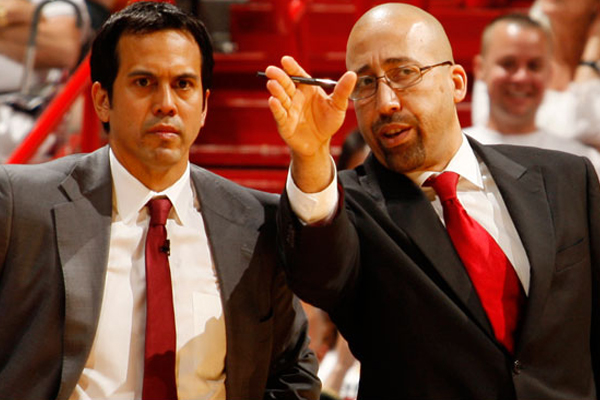 The Memphis Grizzlies are looking for a new head coach in at least one of the right places: Miami.
No, they aren't trying to woo Miami Heat head honcho Erik Spoelstra. They're after his assistant David Fizdale:
Heat assistant head coach David Fizdale is interviewing for Grizzlies head coach job today in Memphis, sources said.

— Marc J. Spears (@MarcJSpearsESPN) May 17, 2016
This is a good move. A very, very good move.
Fizdale has been mentioned as one of the top up-and-coming head coaching prospects for a while now, and his extensive experience as an assistant, with an organization like the Heat, means he isn't your typical first time sideline stalker.
And Fizdale is basically an extension of Spoelstra, which is a good thing.
Nay, a great thing.
Coach Spo remains one of the most underrated clipboard-wielders ever, and to nab a candidate who has worked under him, and Pat Riley, would be spectacular.
The Grizzlies, of course, appear to be looking for a very specific successor to the departed David Joerger, who has since set up shop with the Sacramento Kings. But Fizdale may offer the best of both worlds—the willingness to implement Memphis' traditional offensive vision while incorporating some modern-day tenets that afford them flexibility they haven't had since…since, well, ever.