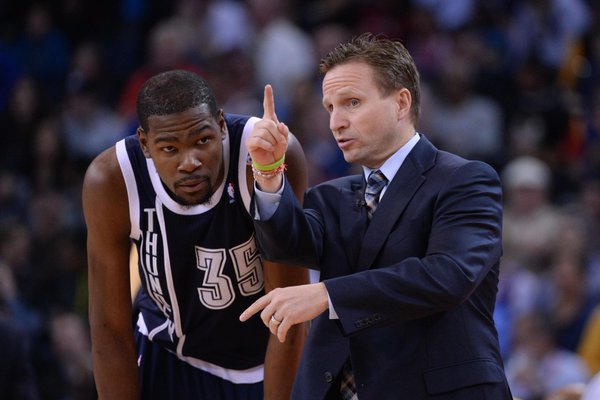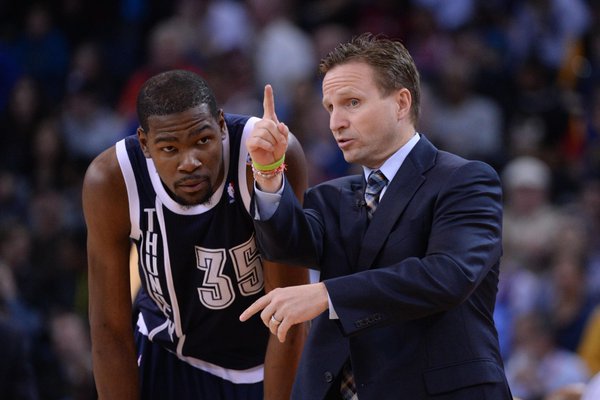 Kevin Durant is going to make damn sure Scott Brooks doesn't remain unemployed for long, even if he doesn't know he's doing it.
Like Durant, Brooks is a free agent of sorts. He is expected to be among the hottest coaching commodities this summer, just as Durant begins his own open-market tour. And if you don't think there will be teams open to hiring Brooks solely so they can appeal to Durant, think again. It's going to happen, and it's not hard to see why. Durant, after all, still has a soft spot for the his former coach.
Per Erik Horne of The Oklahoman:
In Durant's first session with the media on Thursday leading up to the start of the playoffs, Brooks' name came up again. Durant went out of his way to talk highly about his former coach, particularly when asked about what's changed since the last time the Thunder was in the playoffs two seasons ago.

"I can't keep saying it enough, Scotty did a great job with us," Durant said. "It's nothing against him, but it's different. Different plays, different schemes, different terms and what we want to do on both ends of the floor."
No, this doesn't mean Durant will flee from the Oklahoma City Thunder, or that he doesn't like head coach Billy Donovan. But this relevant if you're a Washington Wizards or Houston Rockets fan. Both teams are expected to get in on the Kevin Durant sweepstakes, and there's a chance, if not ironclad certainty, the entertain the idea of courting Brooks as a means of reaching Durant.
It's not a bad idea, either. Just a risky one. You better be damn sure Durant is coming if you're hiring a coach based on his personal preferences. There's an easy way around that, by pursuing him and using the coaching vacancy as a selling point. But that won't appeal to every player. They may not want to have that kind of "official" say once they join a new team.
For Brooks' part, though, he's a great coach. I've complained about his offensive tactics in the past, but he's a good stewart of young players and, as Durant proves, reaches those that he's coaching. So, really, his foray into coaching free agency will be more about him than about Durant's affections for him.