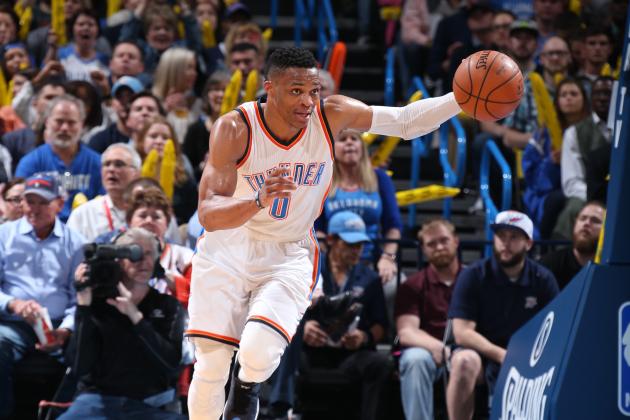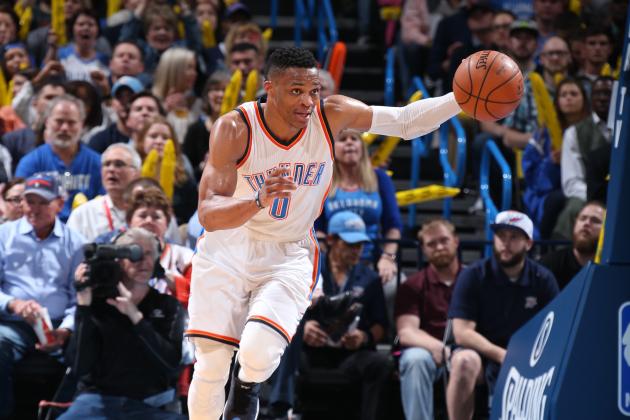 Statisticians have been working overtime in the 2015-16 season as the stat sheet has been stuffed to a level the NBA hasn't seen in quite some time.
With about a month left in the NBA season and most NBA teams having 15 or so games remaining, there have already been more triple-doubles in the league this season(54) than we have seen in 26 years.
Russell Westbrook is leading the way with an incredible 12 triple-doubles thus far, which is the first time a player has had at least 12 triple-doubles since Jason Kidd in 2007-08 and he is five triple-doubles away from matching Magic Johnson's mark of 17.
Russell Westbrook now leads the NBA with 12 triple-doubles this season (most in a season since Jason Kidd had 13 in 2007-08)

— ESPN Stats & Info (@ESPNStatsInfo) March 15, 2016
Draymond Green is the other heavy hitter which is a big part of the triple-double revolution occuring in the NBA this season as Green has 11.
That still leaves 31 other triple-doubles this season which have been accomplished by a number of other players including Rajon Rondo with 5, the Greek Freak with 4 (in the past month) and Hassan Whiteside with 3 (all with blocks).
Here is the complete list of players who have registered a triple-double this season thus far:
1 Russell Westbrook OKC 12
2 Draymond Green F GS 11
3 Rajon Rondo PG SAC 5
4 Giannis Antetokounmpo MIL 4
5 Hassan Whiteside MIA 3
6 Stephen Curry G GS 2
7 James Harden G-F HOU 2
8 John Wall PG WAS 2
9 Pau Gasol C-F CHI 2
10 DeMarcus Cousins SAC 1
11 Marcus Smart PG BOS 1
12 LeBron James F CLE 1
13 Raymond Felton G DAL 1
14 Matt Barnes G-F MEM 1
15 Brandon Knight G PHO 1
16 Marc Gasol C MEM 1
17 Kyle Lowry PG TOR 1
18 Kevin Durant F OKC 1
19 Nicolas Batum G-F CHA 1
20 Victor Oladipo G ORL 1
The league in general is playing at the fastest pace it has in 25 years, and half the league has at least 98 possessions per game. There are more shot attempts per game than there has been since 1992-93, and that creates a lot more rebounding and assist opportunities.
I know a lot of old timers like Charles Barkley will say the league is as bad as it's been in a long time this year, but don't listen to them. There are two all-time great teams, and the NBA is playing a more wide open, unselfish, fast-paced and ball/player movement centered game than we've seen since the golden age of the Bird, Magic and the early Jordan era. The days of nothing but one on one basketball are gone and the game is more exciting as a result. There may not be a lot of great teams, but there is plenty of parody and talent. This wide open brand of basketball will continue to lead to NBA 2K type stats and that isn't a bad thing in my opinion.