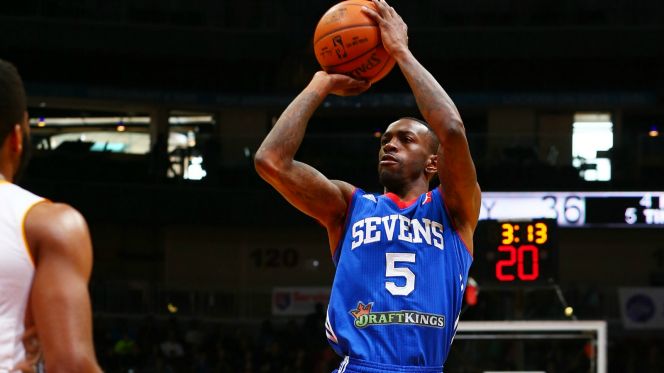 Former 1st Team All-American and star point guard at Louisville, Russ Smith made some history in the NBA Developmental League Thursday.
Smith, now a member of the Delaware 87ers scored a record 65 points in Thursday's game against the Canton Charge.
Delaware 87ers' guard Russ Smith sets D-League record with 65 Pts.

• 24-42 FG
• 16-20 FT
• 1-5 3-PT FG pic.twitter.com/11UBxx6R6P

— SportsCenter (@SportsCenter) March 24, 2016
Believe it or not, Smith dropped 65 in a losing effort as the 87ers lost 140-129 to the Canton Charge. Apparently defense is a foreign concept in the D-League.
Smith broke the record of 61 points that was set in January by former 87er and current Cleveland Cavalier Jordan McRae.
Watch Smith go to work here:
.@Sir_Saudade got RUSSDICULOUS on his way to an #NBADLEAGUE RECORD 65 POINTS (24/42 FG's) for @Sevens!#DLeagueVine https://t.co/O3aTLFuxNg

— NBA D-League (@nbadleague) March 24, 2016
Russ is averaging 26.3 points, 8.3 assists, 4.9 rebounds and 2.3 steals in 20 games with the Delaware 87ers and hopes that he will get another shot at the NBA at the end of this season.