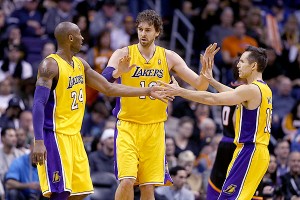 If this Lakers' season were a new movie, what would you call it? "Escape Plan?" Oh, wait D-12 already did that. "Cloudy with a Chance of Meatballs 2?" Or maybe "Prisoners," to describe the Lakers fans and perhaps Bryant, himself. As the Lakers prepare to start the 2013-2014 season without veteran 5-time NBA champion and 15-time All-Star Kobe Bryant, don't expect any less drama in Lakerland.
Recently retired 7-time All-Star Tracy McGrady seems to agree, as he recently tweeted: "Sitting here watching the Lakers, and I feel sorry for my boy Jellybean when he comes back!"
Clearly, the Los Angeles Lakers have been headed downhill even before the departure of legendary head coach Phil Jackson, the oft injured Andrew Bynum, the ageless 5-time champion Derek Fisher, and even before the most recent departure of All-Star center Dwight Howard. The Lakers are a far different team from the one that won back-to-back titles in 2009 and 2010. Ultimate optimist Kobe Bryant has repeatedly said, since those titles, that he'll run with the guys he has. And, the Lakers have done that to the tune of 3 consecutive early playoff defeats to the Mavericks, Thunder, and Spurs (who all made the NBA Finals the year they beat the Lakers).
This season the Lakers look like a team with a very mixed identity. Some argue they're trying to rebuild on the fly, like the Denver Nuggets (after trading Carmelo Anthony in 2011) or the Houston Rockets (who lost Yao Ming to a career-ending injury in 2009, in a semi-finals series against the Lakers). But, a team with a point guard older than some NBA general managers is not a recipe for success in a league now dominated by lightening quick guards like Ty Lawson, Derrick Rose, and John Wall.
The Lakers have retained veteran stars in Pau Gasol (33), Steve Nash (39), and Kobe Bryant, who had a marvelous season in 2013 but he's also 35 years old and nursing a severely torn Achilles. Veteran leadership with excellent basketball I.Q.'s—the Lakers have it in spades.
Youthful talent to help L.A. compete with up-tempo talents like LeBron James, Chris Paul, Russell Westbrook, and Kevin Durant? That's a little tougher to come by.
On my short list of youthful players the Lakers should pursue are: Jrue Holiday, Kenneth Faried, Paul George, Damian Lillard, John Wall, Kyrie Irving, and maybe even a guy like Tristan Thompson.
The Lakers are going another way. But, they didn't exactly strike fear into the hearts of their opponents when they acquired former Clippers center Chris Kaman (31) and un-drafted small forward Marcus Landry (27), older brother of Sacramento Kings' Carl Landry.
Over the summer the Lakers also added some youthful talent in Nick Young (28), Jordan Farmar (26), Wesley Johnson (26), Xavier Henry (22) and Duke forward Ryan Kelly (also 22). But, the Lakers also let Earl Clark and Matt Barnes walk. Barnes, however, didn't go far, as he now plays for the Los Angeles Clippers.
Based on the Lakers roster, ESPN's projection of the Lakers as 12th in the West, and the Lakers' 3-4 preseason record, this Lakers season seems a lot like the infamous New York newspaper headline about the Knicks when they faced Michael Jordan's Chicago Bulls in the playoffs. Their best hope: "look good losing."
Frankly, with Bryant on the mend and almost every Laker player (including Kobe, who makes about $30 million dollars this season) coming off the books at the end of the year, maybe that's not such a bad idea. Yet, Bryant, who has no "particular timetable" for his progress or return to the court seems to agree with former Lakers Metta World Peace and Vlade Divac that the Lakers could win the title this season.
The next NBA draft is speculated to be one of the deepest in recent years, with such headliners as the versatile Andrew Wiggins (Kansas), scoring phenom Doug McDermott (Creighton), and senior point guard Russ Smith (Louisville). Depending on how the Lakers finish the season, they might land a nice first-round pick that could help rebuild the team, like Silver Screen and Roll's Drew Garrison projects in "Lakers' 2014 first-round draft pick can fix the franchise."
The Lakers begin the regular season on Tuesday, October 29th when they face off against their hometown "rivals" the Los Angeles Clippers, a game sure to remind us all that the Clippers enter the season hoping to contend for a title, while the Lakers enter this season hoping to find their way out of "The Dark World."
Rob S. De France is a College and University Instructor of English Composition living in Los Angeles. He has a B.A. in English and an M.A. in Rhetoric and Composition. De France has played, coached, and officiated competitive high school basketball in California for many years. Recently, De France, his wife, and another colleague started an internationally read magazine at Shwibly.com.