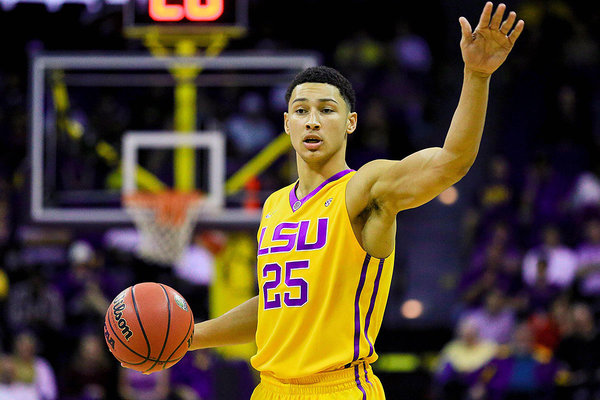 Ben Simmons has made it official: He no longer wants to subject himself to subpar coaching while playing for free.
This is to say, LSU's freshman forward has declared for the NBA draft, per Jeff Goodman of ESPN.com:
LSU freshman Ben Simmons told ESPN that he will hire an agent and declare for the NBA draft.

"I'm making it official," Simmons said late Sunday night.

The 6-foot-10 Australian averaged 19.2 points, 11.8 rebounds and 4.8 assists per game this past season for the Tigers, who finished a disappointing 19-14 overall and 11-7 in the SEC, failing to make the NCAA tournament.

LSU declined an invitation to play in the NIT.
This was totally expected. And despite missing out on the NCAA tournament completely, while also declining an invitation to play in the NIT tourney, LSU has not damaged Simmons' NBA stock all that much. In fact 82% of the mock drafts from analysts in the 2016 NBA Mock Draft Database still predict Ben Simmons to be selected 1st Overall come draft day.
Questions still exist with regard to his killer instinct and ability to carry a team. Duke's Brandon Ingram is considered the better takeover player. But sources told Goodman Simmons is still going to be selected with the first or second overall pick in this year's prospect pageant.
It would be a legitimate shock if he didn't go first overall. No one since at least 1994-95, of any collegiate rank, has matched Simmons' per-game benchmarks, according to Sports-Reference.com. He is the most dynamic player in the draft, and though comparisons to LeBron James are mostly unfounded, he has the potential to end up as an All-Star point forward who can guard between three and four of the league's five positions.
Every year, fans and pundits tend to overthink the draft order. The No. 1 overall pick almost never seems to be completely unequivocal leading into the big day, at least not publicly. Privately, though, teams know. Just as they knew there was no question about Karl-Anthony Towns going first overall in 2015 and Andrew Wiggins going with that same pick in 2014, they know Simmons will be taken at No. 1.
Any rumors you hear to the contrary between now and June's draft is more likely misdirection and not at all representative of the NBA GM's actual consensus.