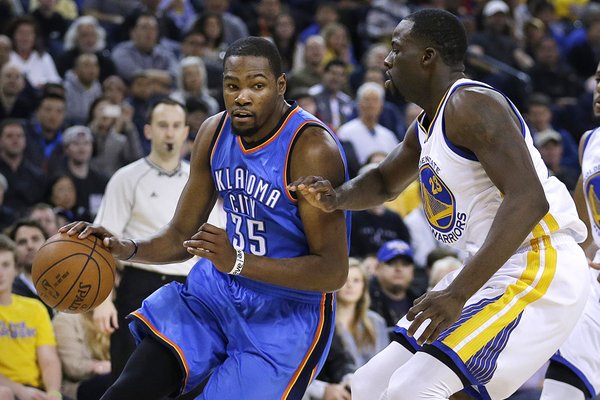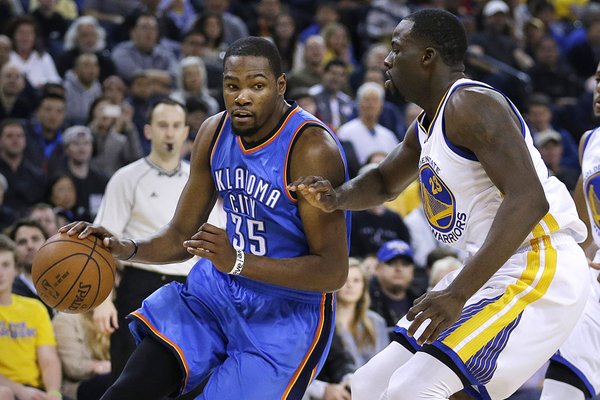 Kevin Durant cannot stop the free-agency crazy train.
And he's dealing with that.
Adrian Wojnarowski of the Vertical heard that the Golden State Warriors figure to be a serious threat to land Durant in free agency this summer. That, naturally, sent the NBA world aflutter. The Durant-Warriors theory has existed for a while now, but this is Woj we're talking about. If he's acknowledging it, confirming that the Warriors are, indeed, a plausible suitor, perhaps frontrunner, then it's real.
How does Durant, who has basically shirked any and all questions pertaining to free agency this season, feel about that?
Put simply, he doesn't feel, per the Oklahoman's Anthony Slater:
Twitter friendly transcript of Kevin Durant on the free agency chatter from this morning: pic.twitter.com/ckapGpR1hS

— Anthony Slater (@anthonyVslater) February 3, 2016
This is a fantastic, well-thought, courteous, entertaining answer from someone who has, in the not-so-distant past, struggled to communicate with reporters and the media at large on the major issues—former head coach Scott Brooks, free agency, the Oklahoma City Thunder's title chances, etc.
And here's the thing: He cannot stop the talk. People always talk, and the current situation is being exacerbated by the impending cap boon. It's given plenty of teams, including the Warriors, a unique opportunity to carve out max cap space without obliterating their core.
So of course the Warriors are being mentioned. They are good and have the makings of a dynasty, while Durant is ringless and in need of championship credentials to buttress his legacy. As for whether there's anything to these reports and musings, we'll just have to wait and see.