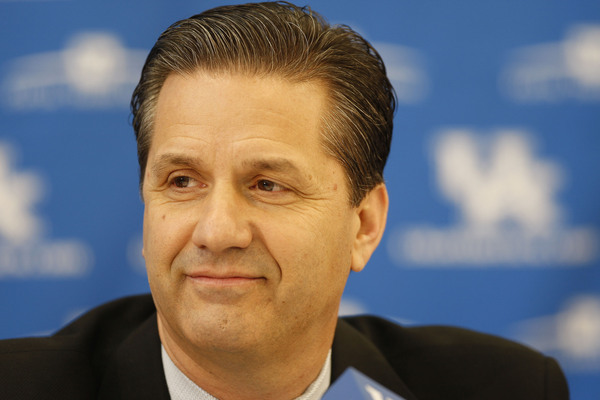 John Calipari to the NBA rumors are back again.
Over the weekend, reports have surfaced linking the Kentucky coach, to the Brooklyn Nets.
When Mikhail Prokhorov fired head coach Lionel Hollins and reassigned general manager Billy King it was made clear that he wants a change, but who will be heading that change has yet to be known.
Calipari coached the Nets back in the 90s but was fired after three seasons. He has been with Kentucky since 2009. However it is now rumored that the Nets are willing to offer him a very large sum for him to join the Brooklyn Nets as coach and team president.
According to Adrian Wojnarowski of Yahoo Sports Calipari is rumored to be asking for $120 million over 10 years.
For Calipari to consider the Nets – and, yes, the Sacramento Kings, too – league sources tell Yahoo Sports that the teams have been informed of his asking price: 10 years, $120 million.

When Calipari spoke with minority ownership in Sacramento last spring, he told them that it would take an offer of $11 million-plus a year to get his attention, league sources said. He turned down a 10-year, $80 million-plus offer with the Cleveland Cavaliers in 2014, because he wouldn't leave Kentucky with only an incremental raise on what is now an $8 million to $9 million annual package on campus.

Cleveland's offer has become a baseline for his contractual demands: He wants the 10 years and now the $12 million a year that Phil Jackson makes to run the Knicks.
In the past, Calipari has stated publicly that he has no intention to leave Lexington and not surprisingly, did the same via twitter on Monday.
You may have heard me say this before: I absolutely have the best coaching job in sports and I plan on being at Kentucky for a long time.

— John Calipari (@UKCoachCalipari) January 11, 2016
I am not negotiating with ANYBODY. My total focus is on this team and winning the next game.

— John Calipari (@UKCoachCalipari) January 11, 2016
Only time and money will dictate whether or not Calipari will make a return to the NBA.