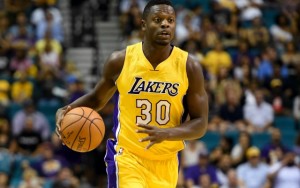 After four games, the Los Angeles Lakers are still winless and are right on track for another forgettable campaign. Their defense has been killing them simply put as their offseason training have not (yet) translated into their games.
Last night, many were hoping that the purple and gold could finally find the answer to their defensive woes. But that didn't happen as the Denver Nuggets emerged victorious at Staples Center with a 120-109 triumph.
During that game, though, Julius Randle continued to impress and build his reputation in the league. He went toe-to-toe all night long versus Kenneth Faried and eventually finished with 16 points.
And two of those points of Randle came from this spectacular baseline reverse dunk over the outstretch arms of the Manimal himself.
Please enable Javascript to watch this video
The Lakers may have lost this game and will probably continue losing their next ones. However, they will be fun to watch as long as Randle keeps delivering highlights like this.