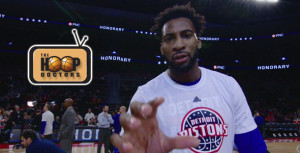 The Pistons are certainly the biggest surprise of the start to the 2015-16 NBA season. Even though they've lost their last two games, Andre Drummond continues to dominate the game every time he plays. He's putting up 20+ points and 20+ rebounds on the regular.
His rebounding prowess is somewhat reminiscent of a former Pistons legend. The one and only Ben Wallace. Fear the fro.
We are so impressed by Drummond's play this season we thought he deserved THD Video treatment. Check out this montage from Andre's start to the season….
Please enable Javascript to watch this video