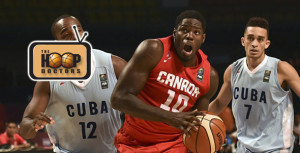 Coming off of solid summer of play for Team Canada, then signing with his hometown Toronto Raptors after being released by Minnesota, things are possibly looking up for the former number one overall draft pick Anthony Bennett.
Bennett may never be deemed worthy of the #1 overall pick in the NBA Draft, but he is young enough to turn around perceptions that he was the biggest bust in NBA history. That mission starts now in NBA preseason for the Raptors.
First victim, Robert Upshaw of the LA Lakers. Big man don't play, get out of his way….
Please enable Javascript to watch this video