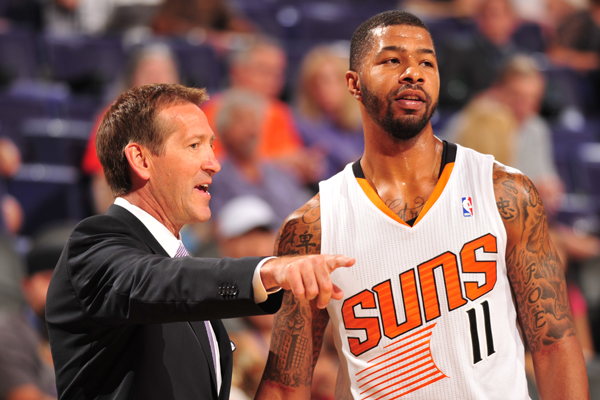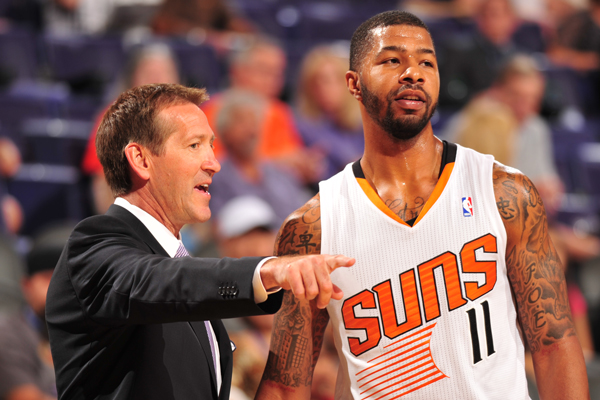 Markieff Morris is having a weird few months.
The Phoenix Suns traded his brother, Marcus Morris, to the Detroit Pistons in what was clearly a salary dump as the team attempted to become part of the LaMarcus Aldridge sweepstakes after signing Tyson Chandler. Marcus has since called the Suns out, leaving no doubt that he was pissed about the move.
Markieff wasn't happy about it either. So much so, in fact, that the rumor mill became flooded with his trade demands. There were the usual sourced reports, but there was also some unconventional material—this tweet from Morris himself, for instance:
My future will not be in Phoenix…. #thatisall #backtothegrind #FOE

— Keef Morris (@Keefmorris) September 4, 2015
At no point during this debacle, though, did it seem like the Suns were going to appease Morris' demand. And that meant he would enter training camp under incredibly awkward circumstances, which would pave the way for additional speculation and perhaps an even more public feud.
But Morris showed up to training camp saying other things. Different things.
Conflicting things.
Per AZCentral.com's Paul Coro:
Markieff Morris smiles. He talks. He plays basketball.

Suns life with a disgruntled, trade-demanding player could not feel much more normal than it has since Morris joined his teammates Monday in Phoenix. As training camp began this week at Northern Arizona University, he tried to put the summer angst behind him.

On Monday, he said, "I want to be here." The about-face sentiment remained Wednesday after practice.

Asked if he is happy with his Suns situation, Morris said: "Excited. Happy to be back. Happy to be with my team. I haven't seen them all summer. We haven't worked together all summer. I'm excited for the year and I'm excited to get started."
Phoenix's head coach, Jeff Hornacek, per Coro, even lauded Morris' work ethic, continuing the theme of weird. It wasn't as if nothing happened over the summer, but it was as if the Suns and Morris were trying to pretend nothing happened. Which, again, is weird.
To be honest, it also felt forced.
Was this all an attempt to save face? Is Morris just going to grin and bear it as he tries to recoup his damaged trade value? Are he and the Suns just hoping they can formulate a mutually beneficial exit strategy at the trade deadline, sort of like they did with Goran Dragic last season?
Or is this all for real?
Morris basically contends it's the latter. Though missed a recent team scrimmage due to a hip injury, he was introduced to the crowd, and their reaction was mixed. But rather than ignore it or sidestep it or chastise it, Morris seemed committed to regaining the trust and goodwill of Phoenix's fans.
I'll win them back," Morris said after Wednesday's shootaround as he walked into the Talking Stick Resort Arena locker room. "That's all I can say about that." . . .

"It is what is," Morris said, "I'll win them back."
Amnesia is a staple of the NBA, so Morris' task isn't, in theory, to tall. If he flashes commitment to the team during the regular season, and if he plays well, and if the Suns in turn play well as a collective, the fans will forgive. They will forget.
Everything will be just fine.
It will be almost as if nothing—for real.