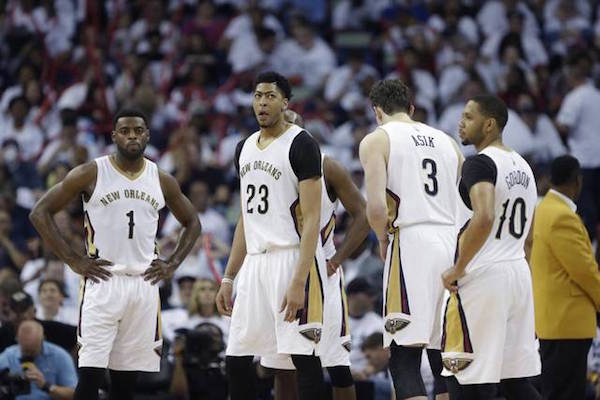 The NBA's preseason has not been kind to the New Orleans Pelicans' big men.
First Alexis Ajinca went down with a right hamstring strain, which, per a team announcement, is expected to sideline him for the next four to six weeks. Now, to make matters worse, starting center/$60 million man Omer Asik is projected to miss three weeks with a right calf strain. The timing, as ESPN.com's Marc Stein notes, is not even close ideal:
Pelicans announce that Omer Asik is out three weeks with a calf strain. NOT what the Pels needed after losing Alexis Ajinca first

— Marc Stein (@ESPNSteinLine) October 8, 2015
Losing both Ajinca and Asik hurts the Pelicans on paper. They're not especially deep in the supporting-cast department as it is, and their absences, however brief, will force Anthony Davis to play more center, something the Pelicans, as well as Davis himself, don't appear high on, judging from the contracts that were handed to Ajinca and Asik over the summer.
Still, while it's crass to call injuries a blessing in disguise, the initial absences of Davis' frontcourt partners will allow New Orleans to experiment in much-need, obviously overdue fashion.
Davis, for starters, can be a beast at the center position. He posted a PER of 30.2 as a power forward last season, but that mark skyrocketed to an out-of-this world 37.2 when moving to center, according to 82games.com. He's quicker and more versatile than most 5s, able to put the ball on the floor and score from anywhere—including, we assume, from beyond the three-point line.
Trotting out Davis at the 5 also leaves more time for Ryan Anderson at the 4. It's unclear what the Pelicans will do, since they've primarily used Ryno as a weapon off the bench in the past, but he has the opportunity to slide into the starting lineup with Davis, Eric Gordon, Tyreke Evans and Jrue Holiday. And that would check in as one of the most versatile starting fives in the league, one with some serious offensive potential.
Yes, the core four of the Pelicans' starting five outscored opponents by more points per 100 possessions with Asik last season than they did with Ryno, according to NBA.com; New Orleans' starting lineup was a plus-11.3 with Asik, compared to a plus-3.1 with Ryno. But neither group spent enough time together to really draw any groundbreaking conclusions. The Asik starting five appeared in just 13 games together, while the Ryno-included lineup saw time in just 15 games.
On paper, a combination of Davis, Anderson, Evans, Gordon and Holiday—who will be on a strict minutes cap to start the season—is absolutely terrifying. And if they're as good in practice as they are in theory, it could force the Pelicans to rethink they're current rebuilding model.
After all, in today's pace-and-space NBA, Davis is technically best suited at center. And while the Pelicans have an excuse to play him mostly at the 4 now, because they really haven't heavily experimented with him anywhere else, Asik's and Ajinca's injuries might be the (unfortunate) developments that bilk them of those pardons—in a good way.