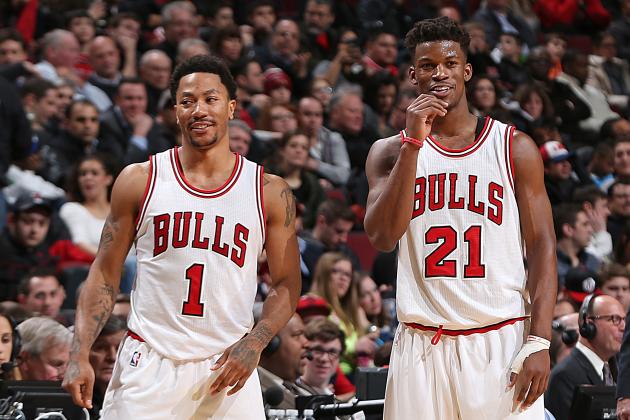 Yeah, so, the Jimmy Butler-Derrick Rose feud that isn't needs to die.
Sure, NBA rumor mills are relentless, and the Chicago Bulls' dynamic duo, which has yet to spend 1,500 total minutes on the court since Butler entered the league, is not above that ruthlessness. But, like, come on. Enough speculation has been presented and subsequently shot down for us to know that, even if something's there, it really isn't there. Rose and Butler aren't going to bite on it, and the Bulls aren't about to admit there's an issue.
Most recently, though, the Chicago Sun-Times' Joe Cowley brought word that, while Rose and Butler do not despise each other, the latter doesn't respect the former's due diligence:
According to the source, Butler considers Rose a friend, but "doesn't have a lot of respect for his work ethic.'' In Butler's mind, Rose was considered the face of the franchise, and if the face of the franchise wasn't busting his butt in practice every day, especially last season, what was the message to the rest of the team?

"We all saw this coming,'' the source said.

The source said that Butler also took note of a Rose comment in the playoffs last season, in which the Bulls point guard was asked if Butler had reached superstar status, and responded, "I think it's going to take a little minute for Jimmy to get there.''
Sounds reasonable.
Or does it?
What say you, Jimmy Buckets (via K.C. Johnson of the Chicago Tribune):
Jimmy Butler and Derrick Rose have been texting regularly about Hoiberg's offense, including this morning.

— K.C. Johnson (@KCJHoop) October 8, 2015
Butler: "I don't understand why everybody wants to find a problem with me and Derrick. Let us be the fierce, (expletive) competitors we are"

— K.C. Johnson (@KCJHoop) October 8, 2015
Butler: "I love having Derrick as a teammate. Just let us play together. I think we can be one of the best, if not best, backcourts in NBA."

— K.C. Johnson (@KCJHoop) October 8, 2015
Butler: "I've said it multiple times: I don't care whose team it is. My job is just to help win. When we win, everybody looks great."

— K.C. Johnson (@KCJHoop) October 8, 2015
Butler said his increased vocal leadership isn't slighting anybody, that coaches and teammates have asked him to take larger role.

— K.C. Johnson (@KCJHoop) October 8, 2015
Well, hot freaking damn.
When Butler talks about "teammates," he's looping Derrick Rose into a generalized category. And that means he has no respect for Rose, or his work ethic, or his drive-and-kicks, or his still-developing jump shot, or his new hairdo…
…is what I would say if I were mining for hot takes that don't exist. But I'm not. So I'll say this instead, even if it means I'm going out on a limb: Jimmy Butler and Derrick Rose are cool, so let's all chill out.
How's that for a hot take?