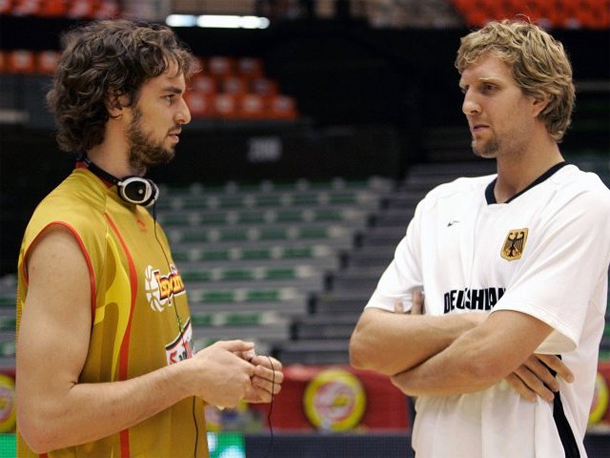 I grew up amidst the basketball eras of Magic, Bird, and Jordan, when finding a great European player in the NBA was about as rare as the L.A. Clippers making a good draft selection or the playoffs for that matter. I grew up in a time where the Lakers Vlade Divac was literally considered the best Euro player in the NBA, but there were others: the deteriorating bones of the Portland Trailblazers Arvydas Sabonis, the tragically fallen star of Drazen Petrovic, and even German-born Detlef Schrempf who played a key role on the 1996 NBA Finals Seattle Supersonics team. Today, the NBA is (racial makeup), and NBA scouts are always on the hunt for the next great European star in the NBA. With Spanish Pau Gasol winning his 3rd Euro title in the last 7 years, and having won back-to-back NBA championships (2009-2010), Gasol truly deserves the title of the best European player to ever play in the NBA.
Spain Wins Eurobasket 2015:
With all due respect to those who paved the way like Divac, Petrovic, Schrempf, and Rik Smits, players of the current era have surpassed practically every accomplishment of their fellow euro players, and players like Pau, Marc Gasol, Dirk Nowitzki, and Tony Parker have become the European gold standard in the NBA.
Tony Parker has won 4 NBA championships and 1 Finals MVP.
Tony Parker Highlights:
Nowitzki has won an NBA championship, the NBA MVP award, and a Finals MVP.
Nowitzki Leads Dallas in 2011 Playoffs:
But, a legit case can be made for Pau Gasol, winner of 2 NBA championships and no MVP awards, being better than either of them.
Leader of the Pack
Mainly, people want to point to the brightest stars, pointing out Dirk is better than Gasol, because he was the leader of a championship team, but would Kobe Bryant have won any more rings without Gasol, Lamar Odom and Andrew Bynum? And sure, Parker led his team in the 2007 NBA Finals over LeBron James and the Cavaliers and won the Finals MVP, but the Spurs never would have gotten there without the greatness of Tim Duncan and Manu Ginobili. I think the whole argument is moot.
The Real Finals MVP
Is Tony Parker better than Pau Gasol simply because he's a Finals MVP? Of course not. That award values the measure of a player's performance in the NBA Finals, and like other awards it is subjective. Parker and Nowitzki have that edge over Pau, both winners of Finals MVP awards. This point cannot be disputed, but in game 7 of the 2010 NBA Finals, Gasol punched his ticket and came to play, scoring 19 points and bringing in 18 rebounds, while the eventual winner the 2010 Finals MVP award only mustered 23 points (on 6/24) and 15 rebounds. So, could the decision have gone towards Gasol instead? I think you could make a legit debate about that, in fact Behind the Basket did a piece on just that after the 2010 Finals.
2010 NBA Finals, Game 7:
The Bright Lights of the Playoffs
While 37-year-old 13x All-Star Nowitzki was clearly the leader of the Mavs, they won 1 NBA championship, and made 2 Finals, mainly behind the shooting stroke of Dirk. On the other hand, in Dirk's time with the Mavericks, they have suffered 7 first-round playoff exits and missed the playoffs altogether 3 times (2000, 2001, and 2013).
Tony Parker and the Spurs have made 5 NBA Finals, winning 4, and they have never missed the playoffs since Parker was drafted in 2001, but they also made 3 first-round exits (2009, 2011, and 2015).
Pau Gasol doesn't get the respect he deserves for establishing the Vancouver Grizzlies, now the Memphis Grizzlies. They were an expansion team in 1995-1996, and a joke league-wide, but it was Gasol who led them to 3 straight playoff appearances (2004-2006), although it would be his brother Marc Gasol (and Zach Randolph) who would eventually lead the Grizzlies to the first ever playoff win and playoff series win in 2011.
Now, while Gasol actually missed more playoffs (4) than either Parker or Nowitzki, Pau Gasol made 3 straight NBA Finals, a feat that neither Parker, nor Nowitzki achieved.
Stats
Euro legend Drazen Petrovic once lit up the Houston Rockets for 44 points, but Nowitzki, Parker, and Gasol have all surpassed that mark. Gasol, as a member of the Chicago Bulls, scored a career-high 46 points last season. Dirk scored his career-high 53 points in an overtime game against the Houston Rockets in 2004. And in 2008, Parker scored his career-high 55 points against the Rockets.
What separates Gasol from Nowitzki is his defense. One could make an argument that Parker, who plays the guard position, is equally as skilled and effective overall. But Gasol is better overall than Dirk Nowitzki and the number bare it out:
Career Statistics
| | | | | | |
| --- | --- | --- | --- | --- | --- |
| Player | PPG | RPG | APG | BPG | SPG |
| Nowitzki | 22.2 | 7.9 | 2.6 | 0.9 | 0.9 |
| Gasol | 18.3 | 9.4 | 3.2 | 1.7 | 0.5 |
| Parker | 16.9 | 2.9 | 5.9 | 0.1 | 0.9 |
There's no arguing that Nowitzki is a superior scorer. Likewise, clearly Gasol is better defensively and at rebounding. But Gasol's lack of scoring is a matter of will, not skill. Gasol explains his unselfishness, saying, "It doesn't matter who gets what. It's just a matter of doing what it takes to win." Gasol prefers to keep his teammates involved, and while Nowitzki does this as well, his nature is to shoot, not look for teammates.
The playoffs, though, are another matter entirely.
| | | | | | |
| --- | --- | --- | --- | --- | --- |
| Player | PPG | RPG | APG | BPG | SPG |
| Nowitzki | 25.4 | 10.4 | 2.4 | 0.9 | 1.1 |
| Gasol | 16.9 | 9.6 | 3.4 | 1.9 | 0.6 |
| Parker | 18.6 | 3.1 | 5.2 | 0.1 | 0.9 |
What is it they say? The playoffs separate the men from the boys. So clearly the playoff advantage goes heavily to Nowitzki (and even Parker) over Gasol.
Head-to-Head Matchups
In the 2007 playoffs, the more talented Dallas Mavericks beat the Grizzlies, 4-0, behind Dirk's 31.3 ppg and 7.8 rpg. But let's not forget—as some writes on Mavs Moneyball might—that Pau was the number one guy on that team, and he had no #2. The second best player on that team was Eddie Jones, who mustered 10.3 ppg. The Mavs had Jason Terry, Jerry Stackhouse, and Josh Howard, who all contributed offensively. So it was really no surprise that the Mavs were victorious in this series.
Dirk and the Mavs lucked out, in a sense, not matching up the with Lakers during the playoffs during their run to 3 straight Finals. The Mavs caught up with the Lakers when they were a little tired and beaten down in 2011, like how the Lakers surpassed the Spurs in the 2008 WCF mainly because the Spurs were hurt. And the Mavs wiped the floor with the Lakers in that 2011 playoff series, 4-0. Head-to-head Dirk pushed Gasol down and took his lunch money.
In terms of overall skill, I would rate Gasol higher than Nowitzki. But if we look at Dirk and Pau's post-seasons, the edge definitely goes to Dirk, due to his superior scoring and rebounding. Yet it is Gasol who has the hardware advantage with 3 Finals appearances and 2 championship rings.
No matter where you stand, it seems Dirk and Pau are among the greatest European players to ever grace the NBA hardwood, but will either be remembered as the greatest of all-time?