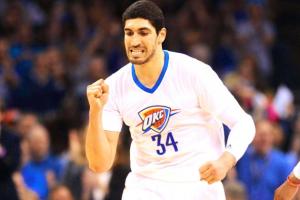 The Oklahoma City Thunder won't be having problems filling in their center position.
Having been initially offered a $70 million offer sheet from the Portland Trailblazers last Thursday, Kanter immediately signed it which forced the Thunder into a serious predicament.
Without a doubt, the amount of money offered is not justifiable to this point for Kanter. But Kanter's potential ceiling is so great that he may just be worth the risk for the Thunder to match.
And for that reason alone Oklahoma has decided to match the Blazers' offer to retain Kanter, according to Adrian Wojnarowski of Yahoo Sports:
Oklahoma City general manager Sam Presti informed Portland of his decision to retain Kanter on Sunday night, league sources told Yahoo. Enes' deal includes a player option on the fourth year and a 15 percent trade kicker bonus….
Thunder General Manager Sam Presti issued this statement regarding the big man, per NBA.com
We traded for Enes last season with the intention of keeping him as a member of the Thunder for several years to come, and we are excited that he will continue with us. He adds valuable depth to our roster, diversity to our frontcourt and the dimension that he brings offensively will positively impact our team.
And Kanter himself even confirmed through emojis:
??????????????????????

— Enes Kanter (@Enes_Kanter) July 13, 2015
The Turkish center still has a lot to prove in the NBA, but already has a respectable offensive game in the paint, and can stretch the floor with his shooting which will prove troublesome for many teams still playing a traditional center. His ability to score, space the floor and clear the attacking lanes for Oklahoma will make things easier for Russell Westbrook and Kevin Durant in going to work.
However, it's important to take note that he is still a defensive liability. The team's defense was 6.5 per 100 possessions worse with Kanter on the floor than sitting on the bench. Fellow big man Serge Ibaka may have to continue to lock down the defensive end during critical points in games until the 23-year-old improves.
If he does so, Oklahoma might have just given another reason for Durant to consider staying with them beyond his current contract.
Last season, Kanter posted 18.7 points and 11.0 rebounds in 26 games for the Thunder.
Benjamin Felix Santos' basketball career didn't work out pretty well so he decided to write about basketball instead. So far, there haven't been any regrets at all. I love this game.
Follow @biefsantos