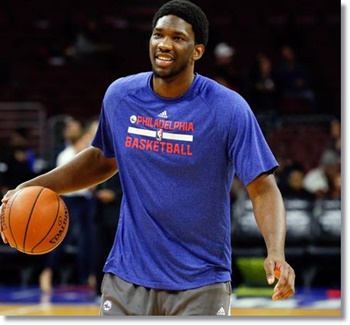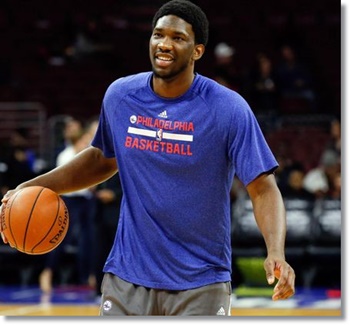 Nearly a month ago, there were rumblings that former 2014 NBA Lottery pick Joel Embiid may have had a setback in his season long recovery from foot surgery, with more news to come.
Over the weekend the hammer dropped on the 76ers organization as GM Sam Hinkie revealed what we all hoped wasn't true, that the 7 foot Embiid will in fact have a second surgery on his injured right foot, forcing him to potentially miss a 2nd consecutive season, consisting of more grueling rehab.
While the nation watched this year's #3 pick Jahlil Okafor drop 19 points and 11 boards on the LA Lakers in Las Vegas Summer League action, the somber news hit Philly fans like a brick, as Embiid now could become the first NBA Lottery pick to miss 2 full seasons following being drafted since David Robinson back in 1987. Of course, Robinson's absence wasn't due to injury but to rather fulfill his obligation to serve in the US Navy.
Talent was never the issue as Embiid was considered the potential #1 pick over his University of Kansas teammate Andrew Wiggins, prior to sitting out the 2014 NCAA Tournament due to a back injury. Since then, the #3 selection in the 2014 NBA Draft, Embiid has yet to play a single NBA minute, while Wiggins is fresh off a stellar 2015 NBA Rookie of the Year campaign in Minnesota.
Here's the official statement from 76ers GM Sam Hinkie per Philly.com…………
"A collective decision has been made that the best approach to promote full healing would be to proceed with a bone graft of the fracture site," general manager Sam Hinkie said in a statement. "We anticipate the procedure will take place in the next seven to 10 days and result in Joel missing the upcoming season."
It's a shame for both Embiid and the 76ers organization, who appear to have been spinning their wheels in an attempt to again become relevant in the modern NBA, especially since they are a major market team that hasn't won an NBA crown since 1983 or been to the NBA Finals since the '00-'01 season.
For the moment, it appears as if Philly now has a clearer answer to their crowded frontcourt featuring Nerlens Noel, Jahlil Okafor, overseas stash pick Dario Saric, newly acquired Jason Thompson, and the injured Embiid, as Okafor and Noel look to be the franchise cornerstones going forward.
Will Embiid ever make a full recovery or will his name be on the list of injured potential stars like Sam Bowie, Jay Williams, and Greg Oden?
Allen Moll has been a lifelong NBA and NCAA College Basketball fan who watches and studies games religiously, and coaches youth basketball in his native Lehigh Valley region of Pennsylvania. Allen has also provided content to Bleacherreport.com, Upperdeckblog.com, Cleveland.com, CSN Philly.com, Buckets Magazine, Balltribe.com, in addition to being a tenured NBA and NCAA columnist for TheHoopDoctors.com.