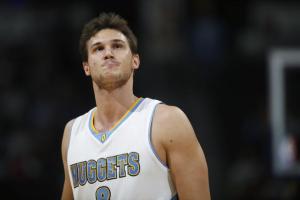 It's seems like no one is safe in Denver.
The franchise is heading for a major revamp this off-season and is more than willing to trade any of its players, as long as the deal coincides with their objective and future plans, which no one really knows at this point.
Anyway, Ty Lawson, Wilson Chandler, Ty Lawson, and Kenneth Faried are not the only ones on the trading block this summer, but also Danilo Gallinari.
From Marc J. Spears of Yahoo! Sports:
The Nuggets have made injury plagued but offensively talented forward Danilo Gallinari available for trade, a source told Yahoo Sports.

— Marc J. Spears (@SpearsNBAYahoo) June 25, 2015
Despite being injury prone, Gallinari is going to be a good pickup for a lot of teams to consider. His offensive capabilities are legit and even though he's been in the league for a stint now, he's still young enough to grow at only 26. Moreover, his sharp shooting accuracy beyond the arc allows teams to further stretch the floor on offense, which seems to be at a premium after seeing the Golden State Warriors run and gun style take the CHIP this year. Gallinari has the versatility to play both forward positions, which is certainly a plus.
Through seven seasons, Gallinari averages 14.2 points, 4.5 rebounds and 1.4 assists in 30.2 minutes per contest.
He's certainly worth the risk.
Benjamin Felix Santos or a.k.a Bief's basketball career didn't work out pretty well so he decided to write about basketball instead. So far, there haven't been any regrets at all. I love this game.
Follow @biefsantos