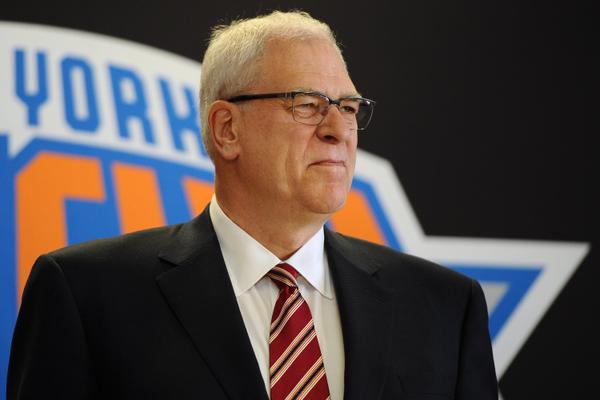 Those hoping that the New York Knicks retain their 2015 draft pick aren't in the clear just yet.
The NBA draft is on Thursday, and the Knicks hold the No. 4 selection, their highest lottery position since 1985. Working off a 17-win campaign, most expect them to keep the pick. They're by no means your normal rebuilding team; they didn't re-sign Carmelo Anthony last summer to be part of a five-year project. But a top-four pick equates to a potential cornerstone, and without a blow-you-away offer coming in from a desperate team, the Knicks are better off rolling the dice on a premier rookie prospect as opposed to settling for a less-than-flattering trade package.
Still, Jackson hasn't ruled out striking a trade—mostly because the rest of the NBA won't let him.
Per The Wall Street Journal's Chris Herring:
Phil, on potentially trading the pick: "We're listening. Not soliciting so much, but we're listening."

— Chris Herring (@HerringWSJ) June 23, 2015
The most recent scuttlebutt had the Phoenix Suns and Knicks engaging in Eric Bledsoe talks. But that's a long-shot scenario for a number of reasons, most notably Bledsoe's questionable fit as a ball-dominant point guard inside the Knicks' passing-packed triangle offense. There's also the whole "Are the Suns out of their damn minds?!?!?" thing to consider.
Had the Knicks landed a top-two pick, maybe they would have ambled their way into DeMarcus Cousins negotiations. The relationship between he and the Sacramento Kings is irreparable at this point, and the Knicks could have swooped in with the promise of a top-two prospect, along with some financial fodder, in hopes that the Kings would bite, much like the Los Angeles Lakers are reportedly doing now.
Alas, the Knicks don't have a top-two pick. They're situated at No. 4, which, given the flotsam they call a roster at the moment, doesn't give them enough to enter the fray. And Jackson readily admits that, per Newsday's Al Iannazzone:
Phil didn't want to say too much about the Cousins-Sacramento situation but said he doesn't know if the Knicks have enough to get involved

— Al Iannazzone (@Al_Iannazzone) June 23, 2015
Really, then, it sounds like the New-York-better-keep-its-pick hopefuls have ample reason to be, well, hope full.
Ahem:
Phil, on the percentage chance that Knicks would trade down (probably jokingly): "A small percentage. 5%. Whatever you pay in taxes."

— Chris Herring (@HerringWSJ) June 23, 2015
Jackson's blatant misinterpretation of New York state tax brackets aside, the Knicks are more likely than not going to retain their pick. There aren't a ton of deals out there, and the ones we're hearing about are either unrealistic or simply not good enough. So, barring a surprise draft-day newsbreak, the Knicks are going to seek out what they hope is a building block to complement Melo.
Here's hoping they find that player and don't Knicks this opportunity up.