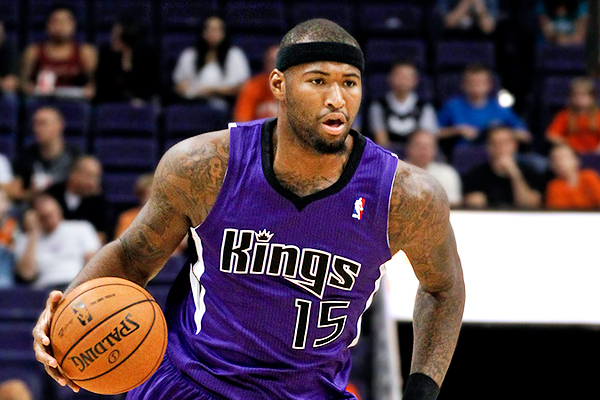 Draft season rumor-mill frenzy sequence, Take 1,268.
The Los Angeles Lakers, owners of the No. 2 pick in Thursday's NBA draft, are trying to poach DeMarcus Cousins from the Sacramento Kings.
No, seriously. They are.
From ESPN.com's Marc Stein:
The Los Angeles Lakers have emerged as one of the most determined trade suitors for Sacramento Kings All-Star center DeMarcus Cousins, according to league sources.

Sources told ESPN that the Lakers have been actively pursuing trade scenarios in recent weeks in attempt to construct a deal that would convince the Kings to part with Cousins. …

Sources say that the Lakers, Kings and Orlando Magic have had exploratory dialogue on a three-way Cousins trade that would land the 24-year-old in Los Angeles. All three teams hold top-6 picks in Thursday's NBA draft, and Orlando has a young top-flight center of its own in Nikola Vucevic, who could theoretically fill the Cousins void.
Stein himself notes the Kings are insisting that Cousins isn't available, which is problematic for obvious reasons. The Lakers cannot trade they pick itself. The Stepian Rule prevents NBA teams from trading first-rounders in consecutive years. Getting this deal done entails flipping the player they select, which, in turn, means they would be drafting for the Kings.
If a deal isn't agreed upon by June 25, when the draft takes place, the Lakers have a choice to make: Do they draft for the Kings and hope they can sell them on the Cousins trade before next season, or do they draft for themselves and move on?
Now, if it's the same player both teams are after, it's no biggie. But this, in all likelihood, would be a three-team trade, complicating matters considerably.
Or, you now, maybe not.
Joe Kotoch over at Sheridan Hoops claims the following:
Still in talks but initially sounds like Kings get 5 pick, Vucevic, & other picks, Magic get 2nd pick & take Okafor, Lakers get Cousins & 6.

— Probasketballdraft (@Probballdraft) June 22, 2015
Er…There's no way that happens.
The framework makes some sense, but there's no way the Lakers are also getting the No. 6 pick. If they're sending Julius Randle somewhere, maybe. But even then, this doesn't make sense.
The Magic, in essence, would be sending Vucevic to the Kings and No. 5 to the Lakers for the right to move up to No. 2 and select Jahlil Okafor. Do they really believe he's THAT much of an upgrade over Vucevic? Who was pretty much an All-Star last season?
This is definitely something to watch, because the initial report comes from Stein, one of the most trustworthy rumor-breakers out there. It's also par for the Lakers' course to try and broker something along these lines.
They need a superstar to help close out Kobe Bryant's career and start anew once he retires. Cousins gives them just that.
We'll just have to see if the Kings are ready to finally give up on him.