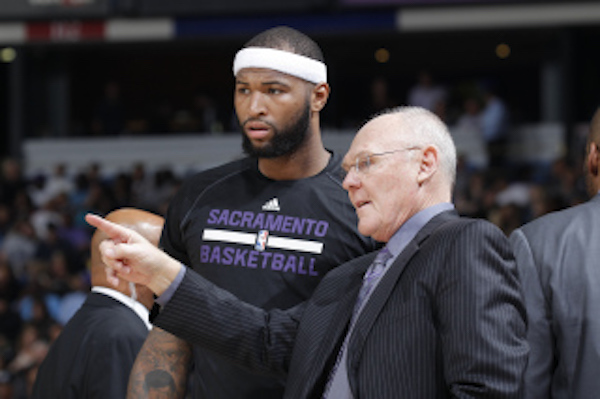 Where there's smoke, there's fire, but Sacramento Kings head coach George Karl is begging you to disregard the effusive exhaust emanating from his slacks.
Things have reportedly soured between DeMarcus Cousins and the Kings, at least in the sense that Karl apparently doesn't want him and would prefer to trade him. On Tuesday, though, Karl refuted the notion.
Here's Sactown Royalty with the juicy deets:
It took a while to track him down, but Sacramento Kings head coach George Karl has finally gone on the record since news broke last night that he was reportedly seeking to convince Kings ownership and the front office to trade DeMarcus Cousins.

Jim Crandell of Fox40 caught up with Coach Karl at the Del Paso Country Club today with the conversation being taped by the Sacramento Bee. You can view the video here. Crandell asked some good questions, although I would have liked some stronger responses from Karl myself.
Make sure to check out the video that's linked above. It's eye-opening…in that it doesn't really do anything to quell the rampant rumors.
Oh, and then there's the batch of Twitter intel that the Sacramento Bee's Jason Jones dropped after Karl's unconvincing words:
Karl could have made it easier by saying something like: "I do not want to trade DeMarcus Cousins."

— Jason Jones (@mr_jasonjones) June 24, 2015
Going to the "commitment" card probably only infuriates Cousins after he played through injuries and the drama last season.

— Jason Jones (@mr_jasonjones) June 24, 2015
Strike that it doesn't "probably" infuriate DMC, I'm sure it does.

— Jason Jones (@mr_jasonjones) June 24, 2015
Also, I've had more sources confirm the Yahoo report that Karl had contacted teams and players on Kings to get DMC dealt. Oh the fun.

— Jason Jones (@mr_jasonjones) June 24, 2015
So, to recap, shit is getting crazy.
Karl clearly prefers to trade Cousins. It's abundantly obvious at this point. The tension may not be as ridiculous as it's reported to be, but Karl's ambivalence and evasive maneuvers with regard to the subject speak volumes: He and Cousins are not a good match.
What say you, Boogie?
????????????

— DeMarcus Cousins (@boogiecousins) June 23, 2015
Alriiiiiiiiiiighty, then.
Stay tuned to this drama-fest for the long, drawn-out outcome.
No, seriously, don't you blink. Things are changing by the minute.
If it's any consolation, though, it's unlikely Cousins is moved prior to or during the draft. A trade may be agreed upon in principle, but it's more likely that he'd be moved after July 1, when the NBA's salary picture basically resets.