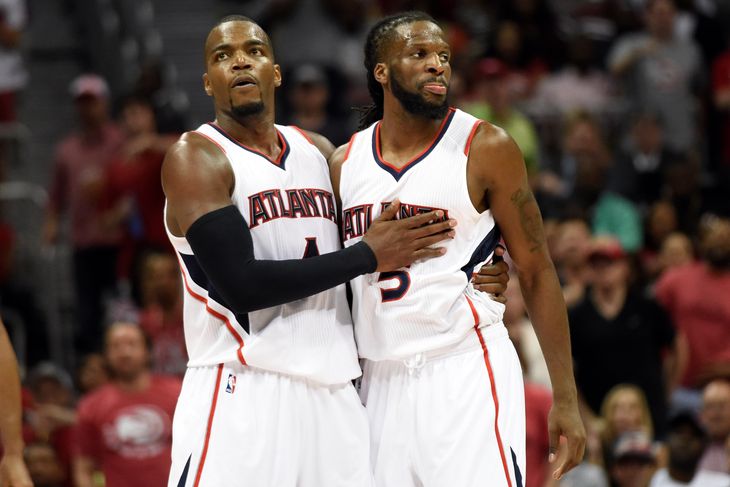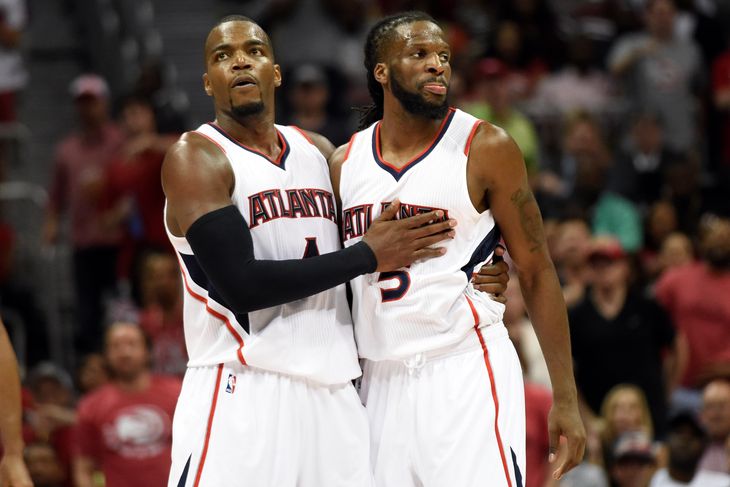 What if we've already seen the last of the 60-win Atlanta Hawks?
It's a crude thought. The East is still wide open after you account for LeBron James' Cleveland Cavaliers, and the Hawks aren't the blow-shit-up type. They will also have ample spending power if all goes according to plan and could, in theory, add to their talented core.
That said, there are two colossal caveats.
Their names are DeMarre Carroll and Paul Millsap.
Both players are slated for massive raises in the aftermath of their successful 2014-15 campaigns. And as Kevin Arnovitz writes for ESPN.com, those inevitable raises could drive one, or perhaps both, out of Atlanta:
After all the accounting for cap holds and their first-round pick (No. 15 overall) in this June's draft, the Hawks figure to have approximately $23 million under the salary cap for those signings. Will that get it done? The sense both inside the Hawks and around the league is "not anymore."

Millsap, who is eligible for a max contract worth more than $18 million a year, is the rare player who spans the spectrum of opinion on what a power forward should look like in the NBA. The old school loves his physicality and work ethic, while the analytics-oriented appreciate his newfound range, versatility and the fact his teams are decisively better when he's out there. And everyone can get behind his durability and professionalism.

With the large amount of cap space available around the league — combined with the collective belief that any contract signed this summer will look like a discount when the cap increases by as much as 30 percent in the summer of 2016 — a "2015 max" salary doesn't seem at all outlandish for Millsap. Plus, many around the league feel someone will come calling after the LaMarcus Aldridge and Kevin Love dominoes fall. Will it be Atlanta?

…

Following Carroll's estimated annual salary on his next contract has been like tracking an internet stock you didn't buy soon enough. Since opening night, he's risen from a candidate for a contract in the neighborhood of the midlevel exception (which would still represent more than double his current paycheck), to someone who has a reasonable claim on an eight-figure salary. Sources say the Hawks are bracing themselves for an asking price of 4 years and $50 million — and given the postseason Carroll put together and the interest around the league, possibly even more. If the price tag is much higher than that, there's good reason to believe the flexibility-minded Hawks could bow out, though their strong preference is to retain Carroll, who has been an essential cog in their two-way success.
For the panicking Patricks out there, the Hawks are most definitely going to keep one of these guys. If they let both walk, it would be super shocking.
Re-signing both, however, feels like a stretch. The Hawks' brother to the west, the San Antonio Spurs, didn't get to where they are today by signing key players to fat contracts. They were always able to keep their most important guys for mostly below-market deals.
Yeah, there were exceptions, most notably Tim Duncan in his prime. But these aren't two young superstars we're talking about. Millsap and Carroll may have to accept a little less if they wish to stay in Atlanta, otherwise the Hawks will be forced to choose one.
Or, worse, they may choose to let both go.