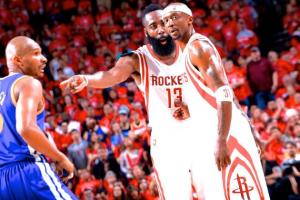 Coming off a poor performance and a blowout loss to the Warriors in game three, James Harden was clearly not happy about his performance and being down 0-3 in the series. And without a doubt, he planned on redeeming himself for game four. Boy did he ever…
On the brink of elimination and a sweep courtesy of the Warriors, the Rockets came to play in game four with a much stronger sense of purpose. From start to finish, they led by a large margin to fend off the Warriors. Curry and the Warriors did however manage to close the gap to just six points with less than 9 minutes remaining in the final period. However, Harden answered the call for the Rockets with a playoff career-high of 45 points, 17 of which came in the fourth quarter.
Please enable Javascript to watch this video
Now, down 3-1 in the series, the Rockets—who previously overcame a 3-1 deficit against the Clippers—face a much bigger task ahead, as they try to be the first ever team in league history to come back and win this series after trailing 3-0. The Rockets now just need to focus on one game at a time.
Let's see what happens in game five.