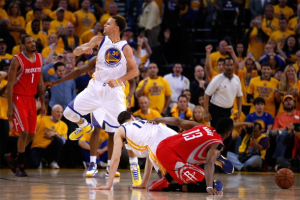 Game two went down to the wire and the Warriors emerged victorious again. This game was without a doubt just as entertaining as the previous one, which 24 hours ago seemed impossible.
Both Stephen Curry and James Harden gave the fans another epic duel, showing they were both every bit worthy of MVP consideration. Curry finished the game with a team-high of 33 points to go along with 3 rebounds and 6 assists while Harden came up short again from a triple-double performance with a game-high of 38 points, together with 10 rebounds and 9 assists.
Please enable Javascript to watch this video
The Rockets could have stolen this one, if only Harden managed to knock-down the possible game-winner in the final seconds of the fourth period. But the Warriors defense prevailed and prevented him from doing so.
Game 3 will definitely prove to be another thriller. I can't wait.