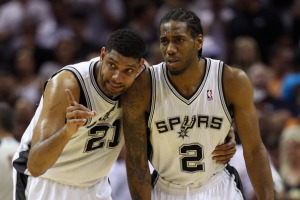 In the words of Kelly Clarkson: What doesn't kill you makes you stronger.
In the words of San Antonio Spurs Gregg Popovich (probably): What doesn't kill you makes you drink a decades-old pinot noir.
Once again, it looks like the Spurs' followed Popovic's lead over Clarkson's.
TMZ has video (h/t Complex) of the Spurs coming out of a club in Los Angeles on Saturday night following their Game 7 loss to the Clippers. While you can watch the video at the provided link, here are the details of what went down:
If we asked you to guess what the Spurs did on Saturday night after losing Game 7 of their playoff series to the Clippers, you'd probably say, "Went home and went to sleep." San Antonio is, after all, one of the more, er, "experienced" (a.k.a. "old") teams in the NBA. So even though they were in Los Angeles, there was no way they were partaking in the night life. Not after a devastating loss, right?

WRONG. TMZ Sports caught up with a bunch of Spurs players—including Patty Mills, Boris Diaw, Tony Parker, Aron Baynes, and, yes, even Tim Duncan—outside of Project Club L.A. as they made their way to a bus after a night out on Saturday. And it was a weird sight to see. Especially towards the end of the TMZ Sports video when it appears as though Duncan, the ultimate team player, is helping a very intoxicated Baynes back to the bus so that he doesn't get into any trouble in the crowd of people gathered outside the club. TD even tells Baynes to "Shut the fuck up" when TMZ Sports starts firing questions at him.
This is awesome and great and funny and weird only because it just seems out of character. With the exception of Tony Parker, the closest thing to a playboy the Spurs have, everyone else would simply look out of place.
Kawhi Leonard would most definitely get into staring contests on the dance floor while, you know, not actually dancing. Tim Duncan would be that guy at the bar telling knock-knock jokes and debating the potency of different fiber supplements. Popovich would be at the end of the bar, sitting alone, bathing in solitude, sipping on wine with a pained expression on his face, one of someone who is contemplating the meaning of life or wants to know why Boris Diaw is twerking while standing on a stool, and why Marco Belinelli is showing Patty Mills and Danny Green how to do the Big Balls dance.
That's what I'm picturing anyway. There doesn't seem to be any other possible scenario, depending on who actually attended the Spurs' night out.
Yet this isn't totally out of character. The Spurs apparently did the same thing after winning the championship in Miami last year. And by Spurs, we mean Green and Belinelli.
If there's one thing worth remembering from the Spurs' Saturday night excursion, it's this snapshot of Duncan helping usher a clearly intoxicated Aron Baynes to San Antonio's team bus:
Well, there you have it. Duncan in a tank and jeans, plaid button-down off and in hand.
He totally knows how to mourn a postseason letdown like it's 1998.