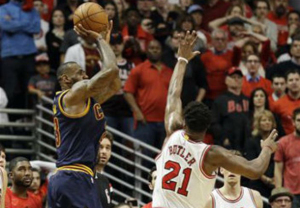 LeBron James has veto power over everyone.
Even Cleveland Cavaliers head coach David Blatt.
And even when Cleveland's season is basically on the line.
Nay, especially when Cleveland's season is on the line.
LeBron drilled a game-winner over the Chicago Bulls as time expired in Game 4 on Sunday evening, ensuring that the Cavaliers wouldn't be forced into an overtime segment or, more importantly, end up traveling back to Cleveland for Game 5 down 3-1, their season essentially over.
Here's a video of the shot:
https://www.youtube.com/watch?v=-QWeQB5tEMs
No big deal. LeBron doing LeBron things. It's not necessarily a high-percentage look, especially for someone who's shooting just 37.7 percent in the series, but he's LeBron. You don't need a fancy play. You just draw up giving him the ball. End of story.
Except in this case, it isn't.
LeBron had to commandeer control of the final play. Blatt didn't initially draw it up for him. Shoot, he didn't even have LeBron in it. The four-time MVP was inbounding the ball, something that didn't quite fly.
From Eye On Basketball's James Herbert:
"To be honest, the play that was drawn up, I scratched it," James said. "I just told coach, 'Just give me the ball. We either going to go into overtime or I'ma win it for us.' It was that simple.

"I was supposed to take the ball out," James continued. "I told coach, 'There's no way I'm taking the ball out unless I can shoot it over the backboard and go in.' So I told him to have somebody else take the ball out, give me the ball and everybody get out the way."
As someone who has defended Blatt at every turn this season, there's only one thing to say: SWEET MOTHER OF ALL THAT DOESN'T MAKE EVEN THE SLIGHTEST BIT OF DAMN SENSE.
You won't find me criticizing Blatt for almost calling a timeout the Cavaliers didn't have. Mistakes happen. It wasn't ideal, and it could have cost the Cavaliers the game, perhaps even series, but mistakes happen. And that mistake didn't even technically happen. Assistant coach Tyronn Lue made sure of it.
Having LeBron inbound the ball with l.5 seconds remaining in a tie game is preposterous, though. If Kyrie Irving was even close to healthy and there was more time to draw something up, maybe you try it. Maybe you try to get Irving open off an inside screen that allows him to sprint behind the arc. Perhaps you have him come off a curl from beyond the rainbow. That's fine. Or at least defensible. This isn't defensible, not with Irving banged up, not with Kevin Love done for the season, not with LeBron being LeBron.
Good on LeBron, then, for calling an audible. And good on Blatt for listening. This didn't devolve into a contentious affair, and Blatt is still a rookie head coach. It's good that he and LeBron can coexist with this dynamic in play—especially knowing that without it Cleveland may be talking about erasing a 3-1 deficit rather than working off a 2-2 series tie.