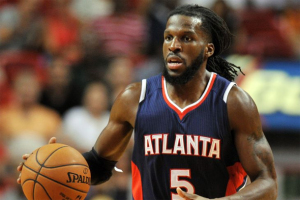 Signature basketball sneakers are usually the most popular, so it isn't uncommon to see a player wearing kicks made with one of their NBA co-workers name on them. But what happens when your team is playing the team and you're wearing the shoe of your opponent? This is the dilemma that DeMarre Carroll of the Atlanta Hawks faced when the Eastern Conference Finals has started.
Throughout this season, Carroll has worn the Nike LeBron XII and even made the switch into the 'Team' LeBron 12 Elite a few games before their public release. Now that the Hawks will be playing the Cavaliers for at least four games, DeMarre has to break his pattern and find a new game shoe.
Starting Game 1 of the Hawks/Cavaliers series in Atlanta, DeMarre Carroll laced up the 'Heat' Nike Air Zoom Flight 98 (better known as "The Glove" since Gary Payton wore them).
With about 5 minutes left in the Hawks loss to the Cavs, Carroll sustained a knee bruise and had the leave the game. Now is questionable for Game 2. Is it the shoes?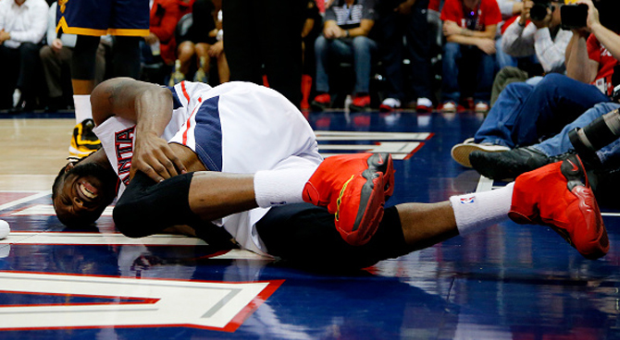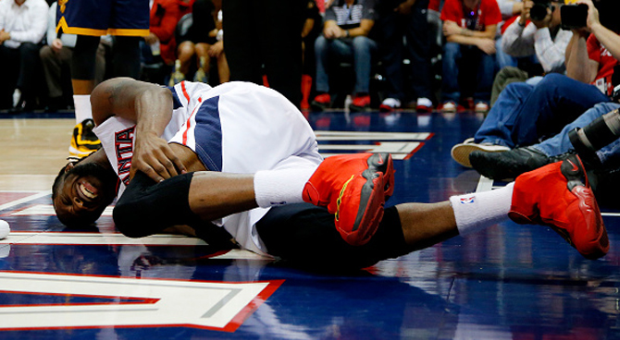 In 1998, the Air Flight 98 was top-of-the-line with its Josh Heard-designed shroud upper (which he also applied to the Air Jordan XX8). But almost two decades removed, it doesn't make much sense to still be wearing these during one of the most important games of your career; especially just for style sake.
People have classic cars to drive leisurely, not day-to-day. That mentality should be carried over into the NBA when it comes to sneakers. Not saying that Carroll's footwear choice caused his injury, but it isn't a idea that should be overlooked. Look at the amount of Air Jordan Retros that fall apart in-game.
No word on if this will be the sneaker Carroll wears all series, or even if he returns to the active list, but it is more than fair to say he (literally) won't "put his feet in LeBron's shoes" anytime soon.