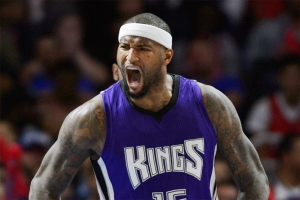 Sit down, because this might come as a shock: The Boston Celtics are in the market for good basketball players.
I know, right? It's so crazy, it almost makes sense.
On the heels of the their first-round exit against the Cleveland Cavaliers, the Celtics are thinking big. They made the playoffs in just the second season of their rebuild and are trying to capitalize on that quick progression by adding talent that only brings them closer to title contention. Indeed, they're still committed to developing young players. But Brad Stevens has shown an ability to balance the big picture with the immediate one, which has Celtics president Danny Ainge thinking about making an offseason splash.
With plenty of financial flexibility on tab, that splash could come in free agency. Or, because they're armed to the teeth with first-round picks in the coming years, it could come via trade.
More specifically, it could come via a trade with the Sacramento Kings for DeMarcus Cousins.
Per ESPN.com's Marc Stein:
The good news for Boston: Ainge and his staffers are creative, aggressive and understand all of those dynamics as well as anyone. And that's why the Celtics realize their next major talent infusion is perhaps even more likely to come via trade rather than free-agent signings.

Will they open their war chest of future draft picks to try to pry DeMarcus Cousins away from the Sacramento via trade? The early word out there is: Bank on it.

Will they be in the mix for pretty much any name player who unexpectedly comes available in coming months?

Bank on that, too.
Basically, bank on the Celtics doing everything and anything to get a star. They don't have one after trading Rajon Rondo midseason. Shoot, if we're being honest, they haven't had one since summer 2013, when they traded Paul Pierce and Kevin Garnett to the Brooklyn Nets and thought they still had a star in, not the corpse of, Rondo.
But while the Celtics have cap space and trade assets, they may be hard-pressed to get that star. This year's free-agent market is top-heavy. Most of the big names—from LaMarcus Aldridge to Marc Gasol to Kevin Love to DeAndre Jordan—are unlikely to go anywhere. Player movement is likely to increase next summer, when the salary cap explodes. So if the Celtics are looking to stage a free-agency coup, they'll probably have to overpay mid-tier talent that doesn't move the needles as much as a Gasol or Aldridge.
Trade-wise, it's difficult to predict who'll be available. Cousins' name has meandered in and out of the rumor mill for months, but with George Karl in charge, the Kings are going to want more than prospects and picks—as in at least one immediate impact player.
There are no rumblings for stars beyond Cousins, either. We knew Love was unhappy in Minnesota last season. We have no such knowledge for other top-20 superstars this year. And though we'll have a better idea of who is and isn't untouchable once July rolls around, there's a strong chance little changes on that front. After all, short of Chris Paul growing weary of the Los Angeles Clippers' postseason shortcomings or Kevin Durant having a change of heart about his future with the Oklahoma City Thunder, what starry storylines are there to follow?
Still, to the Celtics' credit, they're in a position where they don't have to force the player landscape. They have the assets and financial plasticity to insert themselves into the running for any and all available superstars, irrespective of whether those superstars become available in free agency or, in Cousins' case, via trade.