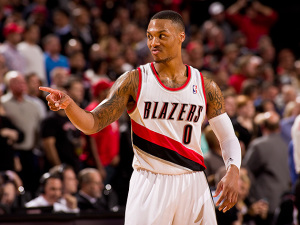 With Portland headed for an early off-season after being eliminated by the Grizzlies in five games (4-1), the franchise now needs to start addressing a number of things that mostly involve the immediate futures of their key players.
One of them is obviously their perennial All-Star forward, LaMarcus Aldridge, who still has yet to make a decision regarding his future in Portland. Rest assured, the team management will do everything in their power to prevent him from leaving this summer.
Other than Aldridge, the Blazers also are expected to start contract negotiations with their other star point guard—Damian Lillard—who's interested to remain in Portland only if he's given a max-level extension, according to Shams Charania of RealGM:
Lillard, sources said, has no plans to consider signing an extension less than the designated max – nor would the two-time NBA All-Star and 2013 Rookie of the Year be financially inclined to do so given 2016's rising free agency market, when upward of 20 teams could extend $20 million-plus offer sheets to Lillard.

In his exit interview Thursday, Lillard told reporters he's confident in extension talks with the Blazers, which could reach a possible $90 million-plus. Discussions can't start until July, and the Blazers have long shown faith in the sixth overall pick of the 2012 draft.
The sixth overall pick of the 2012 NBA Draft has proven throughout his three years in the league that he is indeed the real deal, and one of the key cornerstones of the Portland franchise. He's improved his scoring averages every season (19, 20.7, and 21), together with 4.6 rebounds and 6.2 assists per contest this season.
Despite his brilliant performance over the course of the season, he and the Blazers were sadly unable to overcome a hungrier Grizzlies team in the opening round of the playoffs. That said, it's safe to say Portland will strive to make the necessary adjustments and changes to hopefully have a better and stronger run come next season.
And at the top of their list should be securing Aldridge and Lillard this summer at all cost.
Many rumors of Aldridge no longer happy in Portland have been swirling around the league. The sharks/scouts are swirling.
Portland seems to have a better chance in reaching an agreement with Lillard, and to be safe, it'd be best for the team to successfully handle his contract first, to use as a selling point with Aldridge.