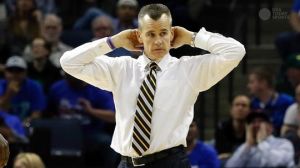 Well, it's official. Billy Donovan is leaving the University of Florida for the OKC Thunder. Traditionally, college coaches who make the leap to the pros don't fair too well. But with all of that talent in OKC, Donovan would have to try extremely hard to mess this up for however long he ends up having Durant and Westbrook.
The Oklahoma City Thunder and Billy Donovan have agreed to a contract that will make him the next Thunder coach.
The deal is for five years.
Donovan has been Thunder general manager Sam Presti's main target to replace Scott Brooks, who the Thunder dismissed last week.
https://twitter.com/okcthunder/status/593845448416296960
H/T: USA Today