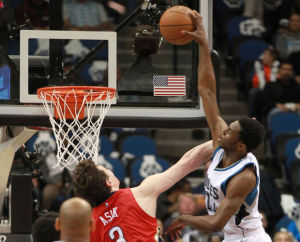 Not many players can effortlessly dunk over seven-foot centers.
But Wolves' rookie Andrew Wiggins, who has proven to the entire basketball world that he is the real deal. Wiggins is also very likely to win this year's rookie of the year award. He can score at will and clearly loves attacking the rim to dunk over defenders with his insane hops and incredible hang time.
And on Monday night against the Pelicans, Wiggins incredible leaping ability was on full display once more, as he confidently elevated for the huge one-handed dunk over the contesting seven-foot center of the Pelicans, Omer Asik.
Please enable Javascript to watch this video
It was nice knowing you, Omer.
Benjamin Felix Santos is an aspiring NBA writer, who bleeds the purple and gold. His love and passion for the game will never die.
Follow @biefsantos