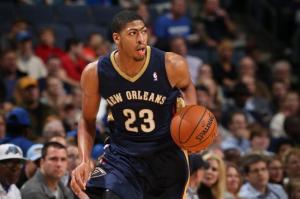 Coming off a decent over-matched first-round effort against the top-seeded Golden State Warriors, the New Orleans Pelicans are going to be dealing with a number of things as they head towards the off-season. And one of them (which undoubtedly should be their top priority) is securing their superstar, Anthony Davis, for the long-term.
With that said, it's absolutely of no surprise that the Pelicans are reportedly going to be aggressive in offering Davis a maximum contract, per ESPN.com's Marc Stein:
With star forward Anthony Davis eligible for a contract extension this summer, Pelicans officials plan to be aggressive as possible in presenting him with a maximum five-year deal that could approach $140 million, according to league sources.

The exact figures will depend on how much the NBA salary cap deal actually rises, but sources told ESPN.com that the Pelicans indeed intend to present Davis with the biggest offer they can once the window for negotiations opens July 1.

The Pelicans would then have until Oct. 31 to convince Davis to sign a five-year deal that makes him their Designated Player.
At the ripe old age of only 22, Davis has already proven himself to be one of the top big men in the league. A 6-foot-10 power forward and center who can score at will down in the post, together with a respectable mid-range game, incredible hops, reach, and timing for blocks.
This kid is a franchise player and everyone in the league knows that. He could be the next coming of Timmy D fundamentally.
In just his third season in the league, Davis out did his averages once again from the last two seasons with 24.4 points, 10.2 rebounds, 2.2 assists and 2.9 blocks in 68 games with the Pelicans.
Do you think he deserves a max deal? We certainly do.
Benjamin Felix Santos is an aspiring NBA writer, who bleeds the purple and gold. His love and passion for the game will never die.
Follow @biefsantos