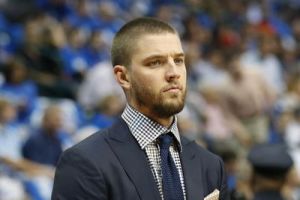 Given the Rajon Rondo debacle, the Dallas Mavericks were lucky to salvage a game vs. Houston. But maybe it was a case of addition by subtraction. They are not only without Rondo, however. Chandler Parsons has been sidelined with a bad knee and it may actually be worse than anticipated. Parsons may need the dreaded microfracture surgery.
The options range from an arthroscopic procedure to clean out debris and fix the cartilage that doctors know is damaged all the way to microfracture surgery. But that's something that won't be known until the procedure is begun.

A league source said that microfracture is a possibility, but said there is no way to know whether it is a likely eventuality or not.

Parsons' agent, Dan Fegan, has been in contact with all the doctors who have been involved in the assessments of Parsons' injury, including a Chicago physician who did Tracy McGrady's microfracture injury when he was with the Rockets.
H/T: Dallas Morning News