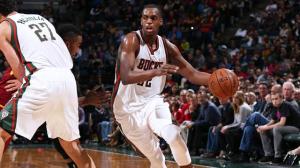 It was a wild finish on Tuesday night at Milwaukee. The road team—Miami Heat—looked to notch a victory against the Bucks and they almost did, but they couldn't hold on to their big lead in the final period and also couldn't even secure the ball down at the last few seconds of the game, allowing the Bucks to mount a huge comeback and eventually win the game in a dramatic style.
With 12 seconds left in the ball game, Bucks guard Khris Middleton missed a potential game-tying three pointer, but the Bucks continued to play with more heart.
Ersan Ilyasova was able to grab an offensive rebound to draw a shooting foul. He missed the second one, and Heat's Michael Beasley got the rebound but was tied up by Jerryd Bayless, which resulted to him the resulting jump ball. Bayless missed the potential game-tying layup, but again, the Bucks grabbed another offensive rebound courtesy of Zaza Pachulia, who ended up giving the ball to Middleton.
And this time the result was different, as Middleton nailed the game-winning three pointer at the buzzer, which ended the team's six-game losing skid.
Please enable Javascript to watch this video
Oh and by the way this is Middleton's second buzzer-beater this season.
Benjamin Felix Santos is an aspiring NBA writer, who bleeds the purple and gold. His love and passion for the game will never die.
Follow @biefsantos