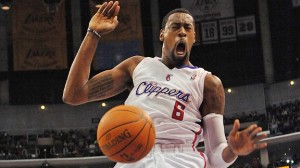 We all know DeAndre Jordan can throw it down with a purpose—and many teams have become a witness to that as he's been doing this all year long with Blake Griffin.
And on their 89-76 victory against the Wolves, Jordan provided us with another emphatic alley-oop slam,
which was probably one of the best dunks he's done this season.
I can't believe the Wolves didn't see that one coming, but none the less, thanks for the entertaining highlight.
Benjamin Felix Santos is currently a senior college student from Manila, PH. An aspiring NBA writer, who bleeds the purpleand gold. His love and passion for the game will never die.
Follow @biefsantos