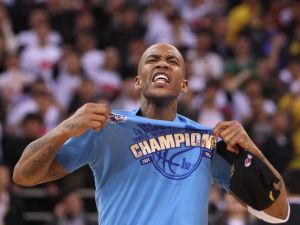 Professional basketball careers in the United States cannot last forever. Stephon Marbury, a two-time All-Star during his 13 seasons of NBA service, moved on from the league in 2009.
The point guard left a lasting impression, however, twice earning third-team All-NBA honors while racking up 19.3 points and 7.6 assists per game throughout 846 appearances.
But he's not done playing. He's not done winning, either.
Six years later, "Starbury" is still picking apart opposing defenses, now sporting a Beijing Ducks uniform in the Chinese Basketball Association. More importantly, he just led Beijing to its second consecutive CBA championship.
Marbury tallied 24 points, seven assists, five rebounds and four steals in the 106-98 series-clinching victory over the Liaoning Flying Leopards. Beijing's Xiaochuan Zhai netted 20 of his 27 points during the second half, knocking down five triples on the night.
The Ducks held off a 27-point, nine-rebound, seven-assist performance from Liaoning's Lester Hudson, who played college basketball at Tennessee-Martin—where he recorded the first-ever quadruple-double in NCAA Division I history.
Additionally, Marbury was tabbed the CBA Finals Most Valuable Player after posting 29.7 points per outing.
The dynamic point guard never reached a championship in the States, but that shouldn't diminish the accomplishment overseas. Marbury, now 38 years old, has two more rings than most of us.
And he's still getting paid to play basketball—winning basketball—at an MVP level.
Kudos, Stephon. But before I forget, your next order of business is bringing back these shoes.
Then go get title No. 3.
In addition to his work for The Hoop Doctors, David Kenyon contributes to Bleacher Report and Sportsnaut. You can follow him on Twitter: @Kenyon19_BR.