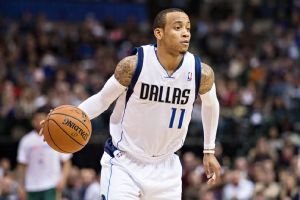 Welcome to Bizarro World. Population: Dallas Mavericks.
Mark Cuban's crew has been in something of a tailspin since the Rajon Rondo trade in December. They're still in the hunt for a top-three Western Conference playoff seed, but their offense is no longer historical, and they're now one of the West's few pretender candidates.
Plenty of issues are at the crux of this, shall we say, demise, none more obvious than the offense's chemistry-less adaptation. But getting Rondo acclimated isn't the only problem. Far from it. In fact, it might not even be the team's biggest concern, because Monta Ellis is apparently acting up.
From ESPN Dallas' Tim MacMahon:
The Dallas Mavericks have a major problem with Monta Ellis.

Actually, the Mavs have multiple Monta problems, both short term and long term. To put it bluntly, he's a pain in the butt who isn't producing.

The Mavs have no hope of making it out of the first round, regardless of their draw in the deep Western Conference, if Ellis doesn't heat up. Then, assuming that Ellis opts out of the final year of his contract as expected, the Dallas front office has to figure out how much they're willing to pay to keep an undersized shooting guard who will be 30 next season and has a history of rubbing his teammates the wrong way. …

Regardless of whether anyone will admit it on the record, Ellis is a big part of that problem. Folks in the Mavs organization have been fretting for weeks about the impact Ellis' moodiness has on the team's soul.

That, of course, isn't a first for Ellis. He had trouble getting along with teammates during his tenure with the Golden State Warriors, who never won anything of note with Ellis as the go-to guy and made an addition-by-subtraction deal by shipping him off. The same was true with the Milwaukee Bucks.
MacMahon does note that Mavericks head coach Rick Carlisle was quick to defend Ellis, blaming the entire team for a shoddy work ethic. But if the franchise is in way concerned with Ellis' attitude, it's going to make for an interesting offseason.
Ellis has, by and large, played so well in Dallas that his return seemed to have become a formality. He's a more efficient version of the player he was with Golden State and Milwaukee, and until Rondo arrived, he was playing like a fringe All-Star candidate. Pairing him with another ball-dominant guard who cannot shoot from three particularly well—though Ellis is markedly better—appears to have thrown him off.
Come July, the Mavericks may only be able to keep one. Not that this is a financial thing. It's a logistical thing. If the Mavericks aren't playing well, and if Ellis isn't happy, and if the team is already dealing with Rondo's warts, things are going to get messy.
Weeks ago, Ellis would have been the clear choice to return. But if present circumstances keep on keeping on, the Mavericks could surprise some people.
More likely than a not, a verdict, whatever it may be, will be reached during the playoffs, when this retooled version of the Mavericks sinks or swims, fails or succeeds, rises or falls.