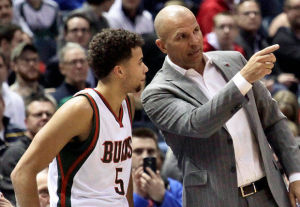 The future is bright for the Milwaukee Bucks. As for the now, however, that's not going so well.
Heading into the Feb. 20 trade deadline, Jason Kidd's team sported a solid 30-23 record—a vast improvement on the franchise-worst 15-67 mark suffered last season. There was little reason to make any changes to the roster.
Now, the Bucks admittedly weren't a championship-caliber squad without Jabari Parker, their No. 2 overall pick from the 2014 NBA draft. The Duke product tore his ACL in mid-December and will miss the rest of the season.
Even so, Milwaukee was on pace to win its most games since the 2000-01 campaign—which was the last time the franchise advanced past the first round of the playoffs—and earn a fifth or sixth seed in the Eastern Conference.
The Bucks had accomplished their resurgent campaign with Brandon Knight performing admirably at the helm. Including the All-Star worthy point guard, each of Milwaukee's 10 key rotational players were converting at least 42.2 percent from the field.
Of course, employing the league's second-best defense, according to NBA.com, didn't hurt, either. The Bucks had limited opponents to the fourth-worst shooting percentage.
Jason Kidd's Milwaukee #Bucks are fun to watch. Play hard defense, unselfish offense.

— George Stanley (@geostanley) January 28, 2015
Kidd's team lacked an elite offensive threat, but Knight's perimeter prowess was a major reason the team had built a respectable 101.9 offensive rating, per NBA.com.
Bleacher Report's Fred Katz described it best—albeit while discussing the Los Angeles Clippers—calling out the myth that "spacing is about good shooting." Rather, "spacing is about the illusion of shooting."
With the threat of Knight, who was shooting a career-best 40.9 percent from deep, Milwaukee was suffocating opposing offenses and doing just enough on the other end, since 17 of its 30 wins were by 10 points or fewer.
The roster had no glaring concerns that could be met with selling Knight high. The point guard was headed for restricted free agency during the offseason and due a sizable raise, but the Bucks didn't need to change their roster. They did anyway.
Milwaukee shipped Knight to the Phoenix Suns minutes before the deadline, acquiring Michael Carter-Williams from the Philadelphia 76ers in a three-way trade. Consequently, the offense lost its important illusion.
Carter-Williams, the 2014 Rookie of the Year, holds a career 25.9 percent three-point clip. Few teams pay attention to MCW outside the lane, considering the pass-first point guard has taken 56.8 percent of his shots inside 10 feet this season. Knight, on the other hand, has hoisted 57.8 of his shots from 16 feet or farther.
Offense clearly (and predictably) eludes the post-Knight, pre-MCW Bucks.

— Rob Mahoney (@RobMahoney) February 24, 2015
The Bucks, who have lost six of their last seven, effectively waved the white flag on the 2014-15 campaign by finalizing the swap, despite what any public relations efforts may attempt to advertise.
Adding Carter-Williams, who has two years left on his contract before restricted free agency per HoopsHype, was a defense-focused move that opens the door for Parker to focus on developing into the featured scorer.
Plus, Milwaukee has length—and according to DraftExpress numbers, an absurd amount of it. The 6'6″ Carter Williams has a 6'7″ wingspan; 6'8″ Parker stretches 6'10"; 6'7″ Khris Middleton reaches 6'11"; 6'11" Giannis Antetokounmpo covers 7'3″; 6'11 John Henson blankets 7'5″.
Good luck scoring on the Bucks. Through seven games together, the wingspan-dominated Milwaukee team has surrendered a meager 97.2 defensive rating, per NBA.com.
But good luck scoring, Bucks. Since Knight packed up his locker at the BMO Harris Bradley Center, Milwaukee has plummeted to a league-worst and undeniably horrendous 90.2 offensive rating, per NBA.com.
The front office is placing a tremendous amount of trust in Parker returning to his offensive form and blossoming into an elite scorer. If the former Duke star can progress to that level, the Bucks will absolutely be in excellent shape a few years from now.
But right now in 2015, Milwaukee isn't a threat, and it's all because of one simple trade.
Unless otherwise noted, stats are courtesy of Basketball-Reference.com and are accurate as of March 6.
In addition to his work for The Hoop Doctors, David Kenyon contributes to Bleacher Report and Sportsnaut. You can follow him on Twitter: @Kenyon19_BR.