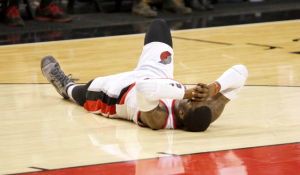 It's definitely a sad Thursday night for Portland fans, as their beloved team just suffered a huge blow during their matchup against the visiting Mavericks.
During the early part of the third quarter—their shooting guard Wesley Matthews received the ball, went for the drive, but unfortunately fell down with pain because of his left foot. And according to the MRI, it turned out to be as bad as it looked, which was a ruptured left Achilles tendon. Matthews said he heard a 'pop'. Never a good sign with an ankle/heel pain.
MRI confirms Portland G Wesley Matthews sustained a ruptured left Achilles' tendon. He is out for the season.

— Trail Blazers PR (@TrailBlazersPR) March 6, 2015
Matthews has been a big part for the Blazer's success this season with averages of 16.1 points per contest and while shooting at 39 percent from beyond the arc.
Needless to say, Matthew's injury lessens the chance for the Blazers to come out on top of the west this season—unless other players on the roster step up to fill in the void. Newly-acquired veteran guard Aaron Afflalo can answer this call as he's well known as a reliable role player who has the skills to take on a larger scoring role when necessary.
Hindsight is 50-50, right? If Afflalo does perform and (hopefully) exceeds all expectations around him—then the team's management team should be quite happy about acquiring him before the trade deadline.
Can the Blazers still contend this season without Matthews?
Benjamin Felix Santos is currently a senior college student from Manila, PH. An aspiring NBA writer, who bleeds the purple and gold. His love and passion for the game will never die.
Follow @biefsantos