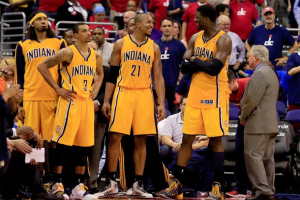 A 25-34 record shouldn't be good enough for eighth place in the playoff picture, but the Indiana Pacers surely don't care that the collectively mediocre Eastern Conference means they hold that position.
And it's not their responsibility to make excuses for it, either.
Sunday night, the Pacers knocked off the Philadelphia 76ers 94-74, using a 15-2 run during the final 8:30 of the game to outlast the cellar-dwellers. The victory helped Indiana move percentage points ahead of the Brooklyn Nets and Charlotte Hornets, two franchises sporting 24-33 marks.
With the win, the Pacers improved to 8-2 in their last 10 outings, soaring from the fourth-worst position in the East to the No. 8 spot. Of course, Frank Vogel's team has happened upon a healthy bit of good fortune along the way.
Pacers are 8-2 in their last 10 games. Need to go 16-7 in final 23 games to finish .500. Used to seem preposterous. Now? Unlikely, but …

— Jared Wade (@8pts9secs) March 2, 2015
In February alone, Indiana recorded a trio of victories against ordinarily superior rosters in the New Orleans Pelicans, Golden State Warriors and Cleveland Cavaliers that were short-handed on game night.
The defending Central Division champions avoided the Pelicans' Anthony Davis on Feb. 11, which allowed David West to connect on 8-of-9 shots for 17 points and propel the Pacers to a 106-93 victory.
Stephen Curry was sidelined on Feb. 22, and Rodney Stuckey shredded the Warriors for 30 points and five assists. Indiana surrendered a 39-point showing to Klay Thompson but contained the rest of Golden State's superb squad, winning 104-98.
On Feb. 27, George Hill erupted for his first career triple-double (15 PTS, 12 AST, 10 REB) over the LeBron James and Kyrie Irving-less Cavs for a 103-99 victory.
Pacers now 10-3 with George Hill as a starter

— JCSourwine (@JCSourwine) March 2, 2015
Had Indiana finished off a Feb. 9 matchup with the San Antonio Spurs—it led by 11 points in the fourth quarter—the Pacers would be the only franchise to have won nine of the last 10.
Nevertheless, the recent hot streak doesn't matter if the Pacers start to struggle. But it would be a significant letdown if Indiana falters during its eight upcoming contests, subsequently missing a golden opportunity to create some separation in the standings.
Vogel's crew will face the hapless New York Knicks and undermanned Chicago Bulls twice, two squads missing their respective franchise players in Carmelo Anthony and Derrick Rose.
What's more, the Pacers will challenge the mediocre Orlando Magic followed by the Milwaukee Bucks, who suddenly don't look so dangerous. The front office likely disrupted a solid roster by sending Brandon Knight to the Phoenix Suns, and Milwaukee has lost four of five since the trade.
Indiana will then oppose the inconsistent Boston Celtics and reeling Toronto Raptors before the second meeting with Chicago caps the stretch. Winning six of the next eight games is a very realistic possibility for the Pacers.
While "fortune" is not the proper word to use when discussing injuries, Indiana has undoubtedly benefited from a pair of losses on teams competing for a playoff spot. Chris Bosh will miss the rest of the Miami Heat's season, and Kemba Walker is still unavailable in Charlotte.
Most importantly for the Pacers, though, Hill has excelled since his return from a groin issue, while their superstar, Paul George, has completed a full practice and is working to come back before season's end.
Per Candace Buckner of the The Indianapolis Star, George hopes to make his season debut in mid-March after making significant process in his recovery from a gruesome leg injury.
"After (the injury) happened, I didn't think I'd be where I'm at right now up to this point … If you had seen what I saw," George said. "But I'm happy to be at this point, happy to be practicing again, but just running gives me a smile.

"Things are looking good," George continued. "Again, I'm happy where I'm at right now. Still got a long ways to go but for me to set a date (for practice) and be able to come back before that date, it's a lot of positives."
Even as the 6'9″ small forward re-acclimates to the speed of the game, he would bolster—and likely solidify—a late playoff push. After all, rookie Damjan Rudez, who averages 4.6 points per appearance, started for Indiana against the 76ers. That's quite a drop from an All-Pro player.
Right now, everything seems to be going Indiana's way. However, it's not the Pacers' responsibility to apologize for any circumstance that potentially helps them reach the postseason.
The important thing for Vogel's team is it locks down one of the eight seeds. Then, if George manages to resemble a fraction of his 2014-15 form, Indiana might even disrupt the favorites in the playoffs.
But if the Pacers fail to capitalize on this opportunity, another franchise will happily take their spot. And apologizing for Indiana's collapse wouldn't be that team's duty, either.
In addition to his work for The Hoop Doctors, David Kenyon contributes to Bleacher Report and Sportsnaut. You can follow him on Twitter: @Kenyon19_BR.